Jailed Turkish journalists say arrests were aimed at sending 'clear message' to the press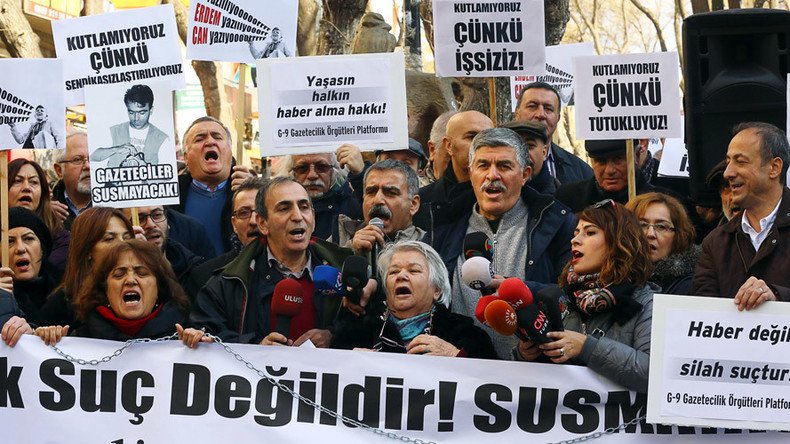 Two jailed Turkish journalists accused of spying and helping a terrorist group say their arrests were designed to send a warning to other reporters, and have accused Ankara of pushing for self-censorship. A government official has denied the allegation.
Can Dündar, editor-in-chief of Cumhuriyet newspaper, and senior editor Erdem Gul were jailed on November 26 after publishing photos, videos, and a story in May which they claimed showed officials from Turkey's National Intelligence Agency (MIT) transporting arms to Syria in trucks, allegedly to opposition fighters.
The two were detained on charges of collecting and revealing secret documents for espionage and supporting an armed terrorist organization. They were reportedly held in solitary confinement for 40 days before being moved to the same prison ward.
In a faxed handwritten message to Reuters, the two journalists said the arrest was aimed at sending a message to other journalists.
"Our arrest is a clear message aimed at the press, saying: 'Don't write'.This is a direct drive at self-censorship," they wrote.
"In a country with imprisoned journalists, the media is already under heavy pressure to self-censor. This...poses a mortal danger for the whole country," the pair said in response to written questions from Reuters submitted through their lawyer.
The fax, which was reportedly written on behalf of the two journalists by their lawyer, Tora Pekin, was dated January 10. The delay in receiving the response was due to prison rules which allow inmates to send faxes only three days a week, the attorney said.
The lawyer added that the Justice Ministry has blocked applications by more than 100 journalists to visit them, as well as foreign officials and non-governmental organizations.
The journalists' arrests sparked protests in Turkey, as well as condemnation from US and European officials who are concerned that President Tayyip Erdogan and the Justice and Development Party (AKP) government are silencing voices and exerting too much influence over the courts.
Paying a 'heavy price'
A senior government official has denied the journalists' accusation, saying there is no political agenda behind the investigation, and that it is purely a legal matter.
"There is an open breach of law. Such criticism of the government is unacceptable," the unnamed official told Reuters.
According to the Turkish president, the trucks belonging to MIT were stopped that day by soldiers near the city of Adana while en route to the Syrian border. He has said that prosecutors had no authority to order the trucks to be searched, and that they were acting as part of a plot to discredit the Turkish government.
Meanwhile, Turkish Prime Minister Ahmet Davutoglu says Dundar and Gul should be tried for threatening Turkey's strategic interests, but believes they should not be jailed ahead of the trial. However, they remain in jail some 80 kilometers (49 miles) west of Istanbul, with no indictment or trial date set.
Back in May, Erdogan vowed at the time of publishing that Cumhuriyet newspaper "would pay a heavy price," adding that he would "not let go" of the situation.
Despite stating in 2014 that Turkey had the "world's freest press," the country has about a dozen journalists serving sentences or in pre-trial detention. Only China, Egypt, Iran, and Eritrea have more, according to the New York-based Committee to Protect Journalists.
The government says the journalists are all in prison for promoting terrorism or engaging in anti-state activities, rather than simply for their journalistic work.
The news comes just two days after attorneys for President Erdogan filed a lawsuit against a major opposition leader for stating that he is a dictator. He is reportedly seeking $32,000 in damages.
You can share this story on social media: