'Don't let people die': Turkish TV show investigated after caller's plea for end to violence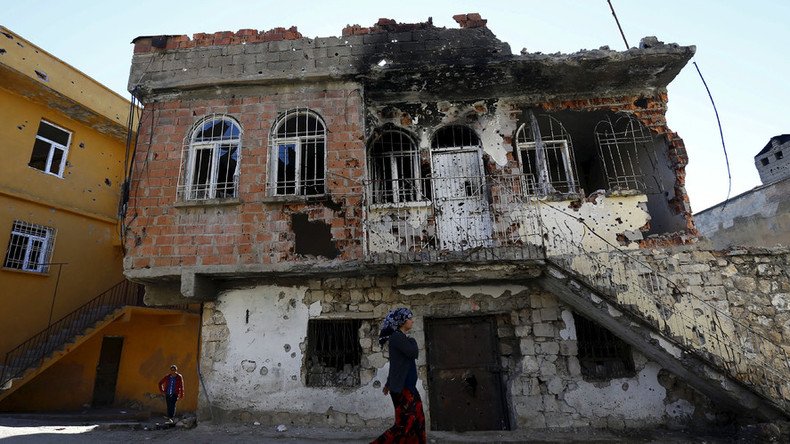 A TV show in Turkey has been accused of "terrorist propaganda" and faces an investigation after a caller lamented the deaths of civilians, including children, who have been killed in the on-going conflict between Kurdish forces and the Turkish army.
The prosecutor's office in Bakirkoy district, Istanbul, said it was checking the recording of Friday night's Beyaz Show broadcast on Kanal D. It is also investigating the caller, the host and those responsible for the program, according to leading Turkish newspaper Milliyet.
On January 8, well-known Turkish host Beyazit Ozturk, who had never previously brought politics into his show, received a call from a woman identifying herself as Ayse Celik, a teacher from the southeastern Diyarbakir province.
READ MORE: 'Erdogan was in a fix': Jailed Cumhuriyet chief on why Turkey punished journos for Syria revelations
"Are you aware of what is happening in the southeast?" she asked, as quoted by newspaper Today's Zaman.
She continued, saying that what is being shown on Turkish TV "is very different from what we are experiencing [in the region]."
"Do not remain silent. Please have some kind of sensitivity as a human. See us, hear us and please extend a helping hand to us. It is a pity. Don't let people die, don't let children die and don't let mothers cry," she said.
Ozturk initially thanked the woman for her remarks and the audience applauded.
READ MORE: 'No human rights policy discount for Turkey' declares top German civil liberties official
"We have been trying to get people to hear about what is happening as much as we can. What you said has taught us a lesson. We will continue to do more. I hope your wishes for peace come true as soon as possible," he said.
But later he backtracked and apologized for the remarks.
Following the incident Kanal D, a nation-wide Turkish television channel and part of Dogan Media Group, said they had been subjected to provocation.
"The Kanal D administration will launch all necessary legal action against this person in the face of this provocation," the statement read.
In the meantime, the Education Ministry released a statement claiming that Celik, the caller, was not a teacher in Diyarbakır.
READ MORE: Turkey fines Twitter $51,000 for 'terrorist propaganda' – reports
Turkey has repeatedly been accused of increasing censorship and a media crackdown. In December the authorities fined Twitter 150,000 Turkish lira (US$51,000) for not removing content allegedly containing "terrorist propaganda, encouraging public acts of violence and hatred," sources in Turkey's communication technology watchdog told media outlets.
Ankara also previously temporarily blocked Twitter, YouTube and Facebook for failing to remove content deemed illegal or banned.
READ MORE: Turkish newspaper editor in court for 'espionage' after revealing weapon convoy to Syrian militants
In November a Turkish prosecutor asked a court to imprison the editor-in-chief of Cumhuriyet newspaper, pending trial for espionage and treason. The outlet had published photos of weapons it said were then transferred to Syria by Turkey's intelligence agency.
You can share this story on social media: