Ankara cracks down on CNN Turk after reference to president Erdogan as 'dictator'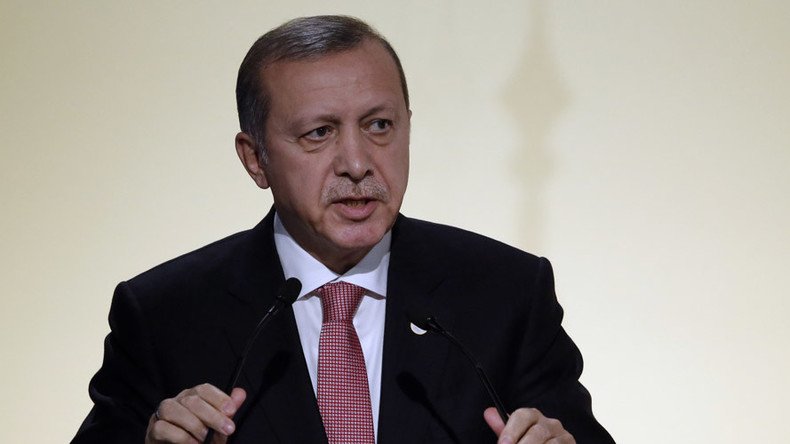 A court in Istanbul has launched an investigation into the Turkish television station CNN Turk after it used the phrase "'Dictator' on trial" in reference to a dispute between President Recep Tayyip Erdogan and opposition leader Kemal Kılıcdaroglu.
CNN Turk used a screen graphic during its broadcast while reporting on the Republican People's Party (CHP) leader Kilicdaroglu. Last week, he called Erdogan a "tin pot dictator," Today's Zaman reports. The screen graphic "Dictator' on trial" was in reference to the case against the CHP leader.
The Bakırkoy Chief Public Prosecutor's Office in Turkey's largest city filed a complaint against the broadcaster for "insulting the president" through the use of its screen graphic. It is expected that the station's news director and the manager responsible for the broadcast will attend the court in the next few days.
The move comes after a Turkish court dismissed President Erdogan's appeal on January 21 against Kilicdaroglu after the opposition leader was alleged to have called him a "thief." Erdogan's lawyers were seeking 200,000 Turkish lire ($66,000) in damages, saying this was an "attack on his personal rights."
READ MORE: Turkish court rejects Erdogan's complaint against opposition leader calling him 'thief'
"Politics should not be turned into such environment. They are setting a bad example for our children," Judge Leyla Kundakcı from Ankara 7th Civil Court of First Instance said after announcing her ruling, the Hurriyet newspaper reported. "But the rulings of the European Court of Human Rights are obvious."
Two years ago, Kilicdaroglu called Erdogan, who was Turkish prime minister at the time – a "thief" and "prime thief."
"A prime thief, a thief cannot be prime minister," the CHP leader said in February 2014.
After losing the case, this prompted Erdogan to file another complaint against Kilicdaroglu, this time seeking 100,000 Turkish lire ($32,000) after the leader of the CHP Party labeled the president "a dictator."
Kilicdaroglu had called the Turkish president "a dictator" just a day after Erdogan urged prosecutors to investigate academics who signed a declaration criticizing military action in the country's mainly Kurdish southeast. Twenty-seven of the signatories were briefly detained.
"Academics who express their opinions have been detained one by one on instructions given by a so-called dictator… You may not agree with the content of the declaration. We also have issues with it, we also have our disagreements. But why limit freedom of speech?" said Kilicdaroglu.
In Turkey, insulting the president is a crime punishable by up to four years in jail. Although Kilicdaroglu has immunity from prosecution because he is a lawmaker, parliament could vote by a simple majority to remove that protection.
It's not the first time that Erdogan and Kilicdaroglu have clashed. In June 2015, Erdogan filed a 100,000 lira ($32,000) lawsuit against the CHP leader for "mental anguish" following a public spat over claims that there were golden toilet seats installed in the presidential palace.
You can share this story on social media: