Turkish court rules rights of detained Cumhuriyet editors were violated, release expected – report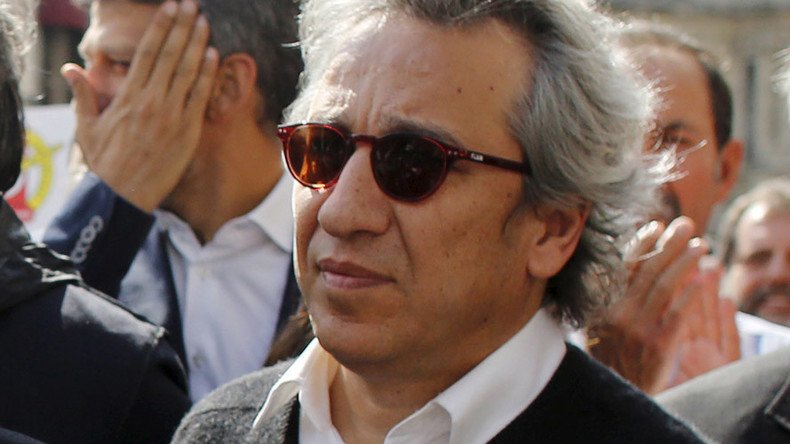 Turkey's constitutional court has ruled that the rights of two prominent editors from independent Cumhuriyet newspaper were violated when they were arrested. Their release is expected imminently, the newspaper's acting editor-in-chief told Reuters.
"The constitutional court has ruled that there is a rights violation. An immediate appeal will be made...We are expecting their release," said Tahir Ozyurt, the newspaper's acting editor-in-chief.
Can Dundar, editor-in-chief of the newspaper, and editor Erdem Gul were arrested in November after publishing videos and photos which purportedly showed Turkey's state intelligence agency helping to send weapons to Syria.
The photos, videos, and report were published in May, and claimed to show intelligence officials transporting arms to Syria in trucks – allegedly to opposition fighters – in 2014.
According to the report, the trucks were carrying six steel containers, holding 1,000 artillery shells, 50,000 machine gun rounds, 30,000 heavy machine gun rounds and 1,000 mortar shells for anti-Assad extremists in Syria.
As a result, the two journalists were charged with intentionally aiding and armed terrorist organization and the publication of material in violation of state security.
Turkish President Tayyip Erdogan said that he would not forgive such reporting, accusing it of being an attempt to undermine the country's global standing.
Erdogan has stated that the trucks, which were stopped by authorities while en route to the Syrian border, belonged to the MIT intelligence agency, and were carrying aid to Turkmens in Syria, who are fighting both Assad's forces and Islamic State (IS, formerly ISIS/ISIL).
The leader said that prosecutors had no authority to order the trucks to be searched, and that it was a move to discredit the government. The other side has denied that accusation.
In a faxed message from prison in January, Dundar and Gul said the case had no legal basis and was designed to send a warning to journalists.
In December, Dundar wrote a piece for the Guardian, in which he said that Erdogan's government used 'state security' as an excuse to cover up its smuggling of arms into Syria and to punish the journalists who reported it.
"Turkey's regime not only smuggled guns into Syria, it used 'state security' as an excuse to imprison the journalists who reported it," he wrote.
The arrests of the two journalists drew international condemnation, with US Vice President Joe Biden stating that Turkey was setting a poor example for the region by intimidating the media.
Emma Sinclair-Webb of Human Rights Watch said the organization was "absolutely clear that Can Dundar and Erdem Gul, in publishing stories on the subject were doing their jobs as journalists and no more than that."
European Union Enlargement Commissioner Johannes Hahn said on Twitter that he was "shocked by life sentences" demanded for Dundar and Gul, and that as a country negotiating for EU membership, Turkey must respect freedom of expression.
You can share this story on social media: