Iran elections: Long lines as millions vote to 'increase dignity & disappoint enemies'
Published time: 26 Feb, 2016 15:23
Edited time: 26 Feb, 2016 20:49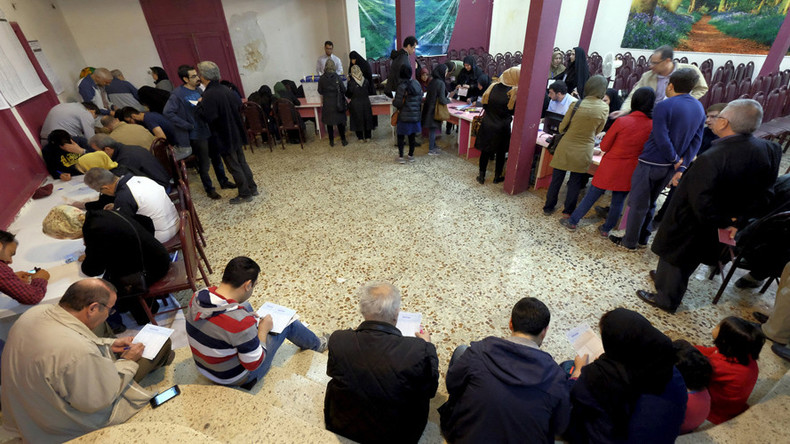 Millions of Iranians have been lining up at polling stations across the country to take part in elections. Control over the 290-seat parliament and 88-member Assembly of Experts, the body empowered to appoint and dismiss the supreme leader, is at stake.
The massive turnout has forced authorities to delay the closing time for the polls five times, for a total of six hours extra hours, in order to give everyone who wants to cast their ballot a chance to vote.
"The voting time has been extended until 11:45 pm (21:15 GMT) in Tehran and other major cities," state TV has reported.
"Anybody who loves Iran, anybody who loves the Islamic Republic and national dignity, grandeur and glory is advised to participate in the elections, which is both duty and right of the people," Supreme Leader Ayatollah Ali Khamenei stated after casting his ballot in the first polls since a nuclear deal last year finally led to the long-awaited lifting of the US and EU sanctions from Iran.
"All should participate in the elections in order to increase national prestige and dignity and disappoint the enemies," he added, the official IRNA news agency reported.
"I advise people from all walks of life to partake in these elections."
Nearly 55 million people are eligible to cast ballots that will elect members of the parliament. Polling started at 8am local time in over 53,000 stations nationwide. Long lines formed at polling stations in Tehran, with a number of polling stations on tap at mosques, amidst "unprecedented security measures" in place during the elections, TASS reported. Hundreds of foreign reporters have descended on Tehran to cover the Friday parliamentary elections in the country.
Authorities have been "overwhelmed by the large number of the people" who began lining up even before the polling stations opened for Iran's 10th parliamentary and 5th Assembly of Experts elections, the semi-official Fars news agency reported.
A total of 4,844 hopefuls, including about 500 women, are standing in the parliamentary election, according to IRNA.
Control of parliament could influence the ability of Iran's president, Hassan Rouhani, to fulfill his promises of greater freedoms and economic reforms, and boost his chances of re-election in spring 2017. Iran's parliament currently has 290 representatives, 14 of whom represent non-Muslim religious minorities. Women constitute about 8 percent of the parliament members.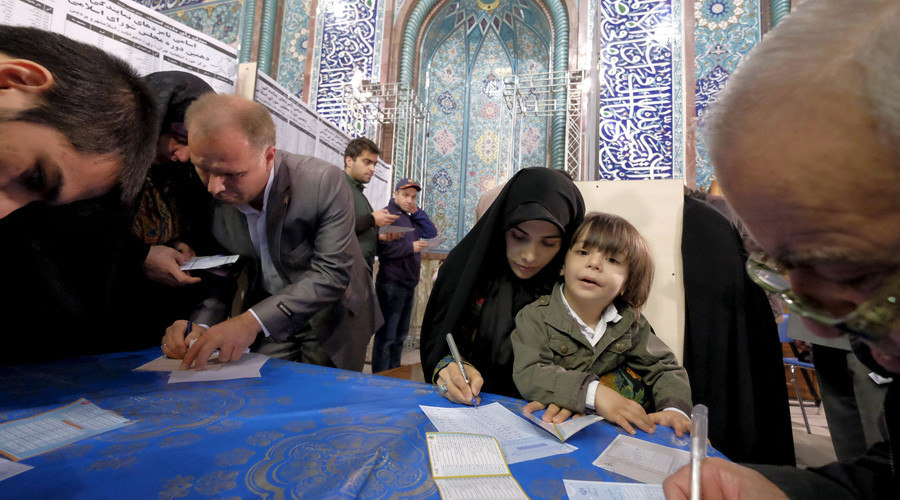 "We are engaged with the reformist movement not only for its political orientation, but also because of its religious revival and renaissance ... We're looking for more freedom, culture, art, human rights and for better rights for our women," Mahshad Amiri, a 33-year-old architect waiting to vote in Tehran, told Reuters.
The EU lifted the sanctions against his country in mid-January after the UN nuclear watchdog confirmed that Tehran had fulfilled all its obligations under the nuclear agreement. Iran regained access to some $32 billion in frozen assets shortly thereafter.
"I expect the situation of the country to improve through reforms," Atefeh Yousefi, 38, told AFP waiting in line at a polling station in Tehran, adding that she regretted boycotting elections in the past.
Supporters of Rouhani, who welcomed the breakthrough nuclear deal, are pitted against hardliners vehemently opposed to thaw with the West.
The main conservative faction is headed by Gholam-Ali Hadad Adel, a former parliamentary speaker, whose daughter is married to Mojtaba Khamenei, one of the supreme leader's sons.
"I have done my research and decided to vote for the principlists [hardliners], they are the best and care for the wellbeing of the people," Marjohan Ranjbag, 36, a mother of two, told Reuters after casting her vote.
Rouhani has pledged that the government would do its best to ensure healthy and legitimate elections, IRNA news agency reported. Elections in Iran are not solely a political event, but a symbol of political independence and national sovereignty, the president said.
Foreign Minister Mohammad Javad Zarif, who led nuclear talks with world powers, said that Iranians would "continue to support the policies that have been adopted leading to the conclusion and successful implementation of the nuclear deal and this will continue.
"The message to the international community from this election is the Iranians are solidly behind their government," he told Reuters while voting at the Jamaran mosque in northern Tehran.
Influential former President Ayatollah Akbar Hashemi Rafsanjani, allied to Rouhani, said Friday's vote was a day of destiny for Iranians. Asked what would happen if reformists failed to win, he told Reuters: "It will be a major loss for the Iranian nation."