'War in Syria robbed it of 40 years of social and economic development' – UN official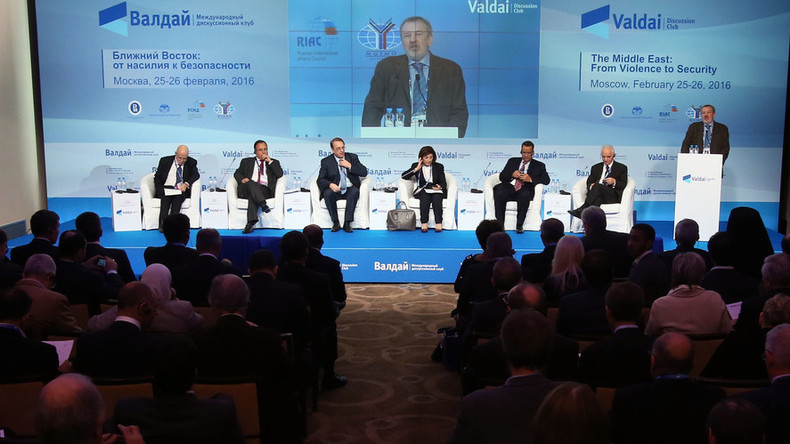 The war in Syria has robbed it of its modern history and four decades of social and economic progress, a UN official said at the Valdai discussion forum in Moscow, where over 100 international officials have gathered to discuss the Middle East crisis.
Over 100 political, academic and clerical figures from Russia, Iran, Egypt, Turkey, Europe, and the US are taking part in the forum held in Moscow organized by the Valdai International Discussion Club. The topic of the forum was: "Middle East: From violence to security."
The impact of the Syrian war on the nation's culture, economy, and social development were discussed at the opening meeting.
"We have frankly lost five years of modern history of Syria, and we have lost more than 40 years of social and economic development in the country," said Abdullah Dardari, Deputy Executive Secretary of the United Nations Economic and Social Commission for Western Asia.
The sole focus in Syria right now should be "on the agreement between Moscow and Washington for the cessation of hostilities – this is the way out," Dardari stated. "And then it prepares the ground for the implementation of resolution 2254, again endorsed by UN Security Council."
The resolution Dardari mentioned was unanimously adopted by the UN Security Council in December. It calls for a ceasefire and political settlement in Syria, envisioning the formation of a unity government and an immediate halt to attacks on civilian targets.
The agreement discussed at the forum was first announced by Russian and American presidents on February 22 and will come into force on February 27. Terrorist organizations such as Islamic State and Al-Nusra Front are not included in the ceasefire and will continue to be attacked until their complete annihilation.
Turkey's former foreign minister, Yashar Yakish, stressed on Thursday that Syria should not be divided up, adding that decentralization of power could be good for the country.
"Let the people there run their region on the basis of one Syria. Its territorial integrity should be preserved, but more devolution of competences to the regional authorities could be done," Yakish said at the forum. He also argued that it would be best if Syria remained a secular country.
On the topic of intervention, Yakish said that Turkey would not pursue that avenue, unless approved by the international community.
"A statement attributed to the Turkish military quarters said that Turkey will not intervene militarily in Syria if international legitimacy is not secured. And it means Security Council decision [is needed], and Russia is sitting there with their veto power, so Russia will not allow the adoption of the decision, which will allow foreign countries invade Syria. If the wisdom prevails, I hope this will not happen."
Another speaker, Nabil Fahmi, an Egyptian diplomat and politician as well as a former minister of foreign affairs, stated that he welcomed the Russia-US agreement in Syria, but remained realistic about tis challenges.
"The composition of the Levant – Syria, Jordan, Lebanon, even Iraq and so on has so many constituencies – if you start breaking up nation states, you really have the potential of creating a domino effect in weak states, and that's very dangerous," he said.
One speaker referred to the Syrian conflict as a "security vortex." Mohamed Mahmoud Ould Mohamedou, a Harvard University scholar who previously served as Minister of Foreign Affairs and Cooperation of Mauritania, explained that if various outside countries send troops into Syria, "we lose track of what is gradually becoming a security vortex with potentially explosive implications."
The situation in Yemen was also discussed at the forum, with a political analyst from Iran, Seyed Mohammad Marandi, proposing that Iran and Saudi Arabia work together to find a solution to the conflict there, while criticizing Western media outlets like BBC and CNN for failing to cover "the genocidal acts" committed by the Saudis.
"Saudi Arabia was supposed to win this war in a week, and now it's almost a year, and they are nowhere near even the capital of the country … Despite the constant bombing of the country, despite the fact that they've created a blockade to prevent people from accessing food and medicine, this failure will reveal itself... After a year of getting nowhere, the best way forward for Saudi Arabia is to find a solution, and Iran is willing to help Saudi Arabia find the way out."
Earlier in the forum, Deputy Foreign Minister Mikhail Bogdanov said that Moscow is not discussing alternative plans for a political settlement in Syria. "We're perplexed by our Western partners, the US included, mentioning the existence of some kind of 'Plan B,' Nothing is known on that one, we are considering no alternative plans," Bognanov stated.
The Valdai International Discussion Club first began in 2004. In over a decade, it has been able to gather over 900 participants representing 62 different countries from the global scholar community. The usual tradition is that the participants are introduced to the Russian president, as well as other top officials, during the annual meeting of the club.
You can share this story on social media: