British celebs, including Jude Law, perform in Calais 'Jungle' refugee camp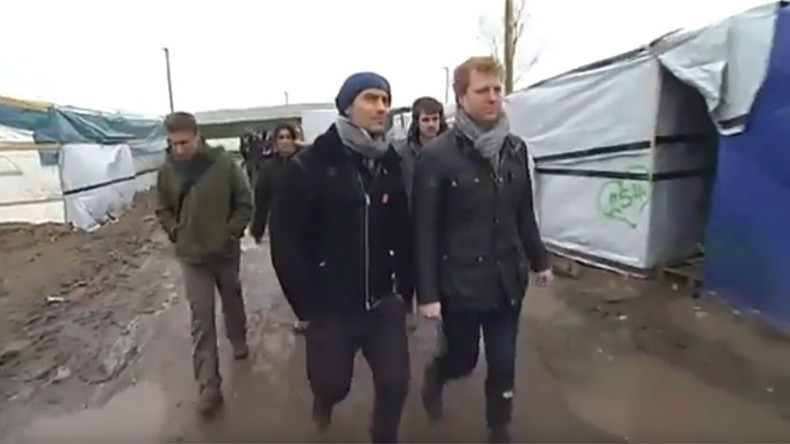 Many British celebrities, including Alfie star Jude Law, have given a performance in Calais' notorious 'Jungle' refugee camp. The actors, playwrights and singers wanted to draw attention to the fate of asylum seekers now facing imminent eviction.
The stars gathered to read letters from famous historical figures in the Good Chance Theatre, which is also called the Theatre of Hope in the camp. Sunday was special – the famous artists included a piece by refugees living nearby.
The event was organized by the Letters Live group, which coopts famous people into reading remarkable and moving letters in front of a live audience.
READ MORE: Clearing out the Jungle: Migrants given until Tuesday to abandon Calais camp
Apart from Law, who was seen walking through the mud of the refugee camp and talking to local asylum seekers, the event was joined by playwright Tom Stoppard and many other singers and comedians.
Law organized a petition to Prime Minister David Cameron, calling on him to stop the demolition of the camp. The document was signed by over 100 public figures, including 'Sherlock' star Benedict Cumberbatch, Hollywood actress Helena Bonham Carter and X-files 'Dana Scully' Gillian Anderson.
The letter says the recent announcement to raze the southern part of the 'Jungle' refugee camp in Calais "will destroy the temporary homes of over a 1,000 people."
"Many of these people are amongst the most vulnerable in the camps as this is where the majority of families and unaccompanied minors currently live. Such an enforced move would again uproot those who have already had to abandon their homes due to war and persecution."
Earlier, French authorities announced they would use force to evict the slum dwellers, if they refuse to leave their tents. The refugees are to be relocated to purpose-built accommodation.
The targeted area includes a mosque, a restaurant, a legal aid center, and accommodation for 800 to 1,000 migrants. However, local NGOs working in the camp say the actual number of residents from Africa, the Middle East and Afghanistan, could be twice as high. It constitutes about seven hectares, or half of the entire camp, with inspections set to begin after 8:00pm on Tuesday, and first demolitions expected soon after.
The asylum seekers will be given a week to decide between moving to a €25 million ($28 million) 1,500-place state-built camp, which consists of heated shipping containers with beds and electricity, or moving to 98 migrant centers elsewhere in the country.
Children's charities have complained that established links with almost 440 underage occupants of the 'Jungle', more than 290 of whom are unaccompanied, will be lost.
"If the eviction takes place it is likely we will lose contact with many of these children and they will be subjected to further suffering and great danger. We beg the government to hold off with this eviction until appropriate child protection measures are put in place," said Liz Clegg, a worker at the children's center set for demolition.
The 'Jungle' is currently adjacent to a road used by lorries en-route to the UK. Many violent and dangerous incidents, as gangs of migrants attempt to board passing vehicles, have occurred on the road.