Clearing out the Jungle: Migrants given until Tuesday to abandon Calais camp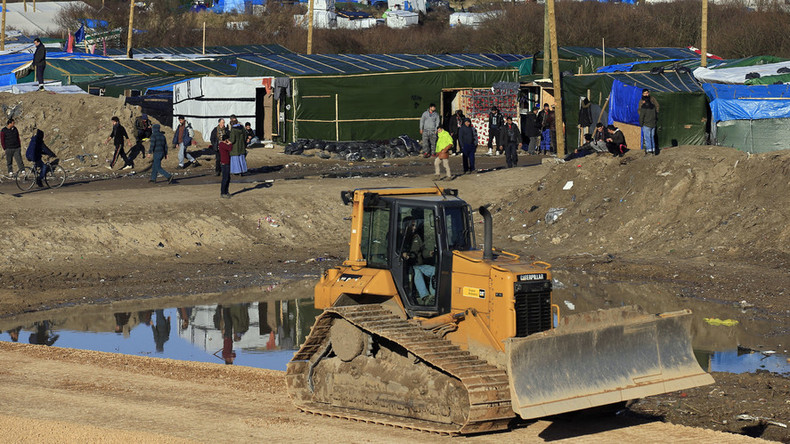 French authorities will use force to evict dwellers of the notorious Jungle slum in Calais, if they refuse to leave their tents, to relocate to purpose-built accommodation. NGOs working in the camp have protested the decision.
The targeted area houses a mosque, a restaurant, a legal aid center, and accommodation for 800 to 1,000 migrants, though NGOs say the actual number of residents, from Africa, the Middle East, and Afghanistan, could be twice as high. It constitutes about 7 hectares, or half of the entire Jungle camp, with inspections set to begin after 8:00pm on Tuesday, and first demolitions expected soon after.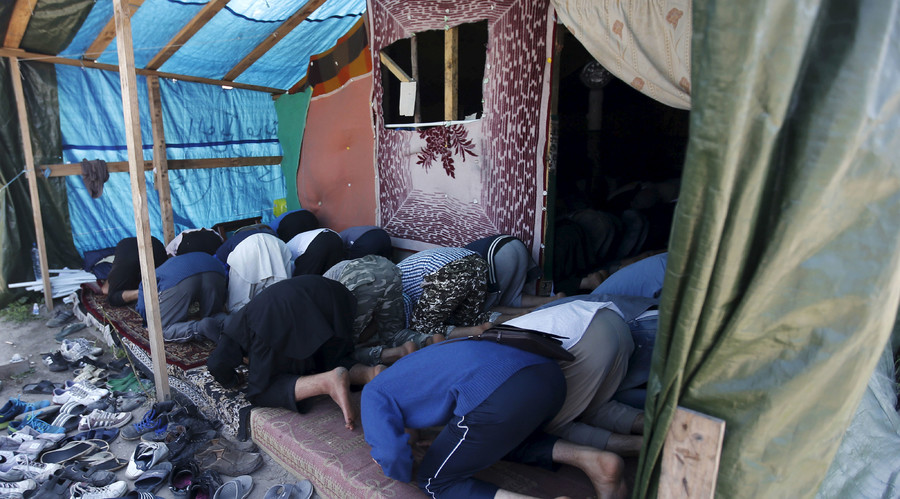 "After this deadline, if they have not left the area, the evacuation of the occupants of this area will take place, if necessary by force," said an official statement from the local prefecture.
Migrants will be given a week to decide between moving to a €25 million ($28 million) 1,500-place state-built camp, which consists of heated shipping containers with beds and electricity, or moving to 98 migrant centers elsewhere in the country.
"It's time to tell the migrants of Calais who live in undignified conditions and give Calais an image that isn't dignified either, that we have a solution for each of you," said Fabienne Buccio, a top official in the Pas-de-Calais region.
Despite bemoaning the conditions in the Jungle, which has been a hotbed of disease and crime, eight NGOs wrote a public letter to the French interior minister Bernard Cazeneuve, protesting the demolition.
"I find it extremely annoying and unfair to move these people away from what they have created, including churches, shops and restaurants," said Pascal Froehly, from aid charity Caritas.
The new camp has been criticized for lacking the social facilities of the Jungle, which has been continuously rebuilt and demolished since 2002.
"People have moved into the container camp where there is a warm bed, but that is all. They can't even make a cup of tea. There is nothing, no meeting place, no social life, no schools, no church, no mosque. There is nothing absolutely nothing," said Maya Konfori, a volunteer for Auberge des Migrants.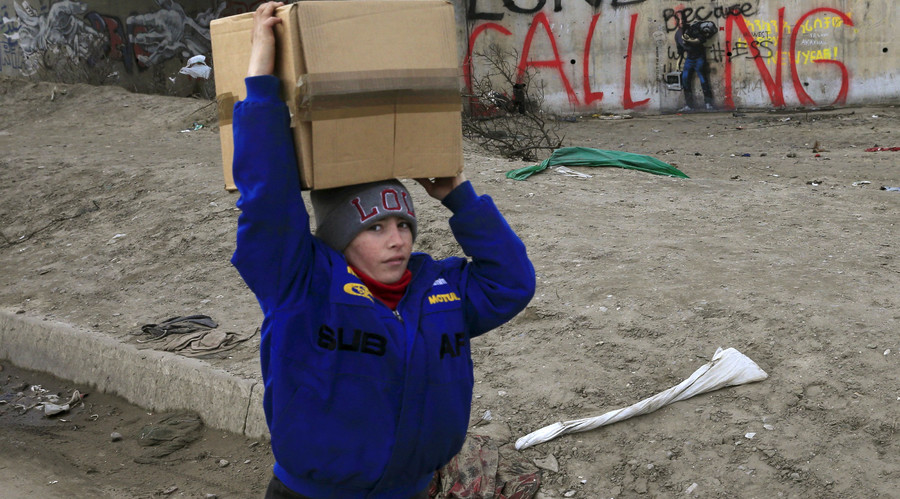 Children's charities have complained that established links with almost 440 underage occupants of the Jungle, more than 290 of whom are unaccompanied, will be lost.
"We have been in the jungle for six months working with women and children, and not a single representative of the government or main aid agencies have approached us to start identifying who these children are," said Liz Clegg, a worker at the children's center that is set for demolition.
"If the eviction takes place it is likely we will lose contact with many of these children and they will be subjected to further suffering and great danger. We beg the government to hold off with this eviction until appropriate child protection measures are put in place."
More than 150 celebrities, including the actor Jude Law, and former footballer Gary Lineker have sent a letter to UK Prime Minister David Cameron, asking him to provide asylum for minors in Britain, and demanding he put pressure on French authorities over the planned demolition.
The French government has argued that migrants must appeal for asylum inside the country if they have a valid case, as opposed to looking for ways to smuggle themselves into the UK, as most in the camp desire. The Jungle is currently adjacent to the motorway used by lorries en-route to Britain, creating a string of violent and dangerous incidents, as gangs of migrants attempt to board passing vehicles. The Channel Tunnel said this week it would invest £4.7million ($6.8 million) building a secure 600m concrete extension, to make it harder to access for migrants, and has demanded £22 million ($31 million) from France in compensation for lost revenues.
There has also been a rise in local tension, with the center-right mayor repeatedly accusing radical outsider activists of stoking violence among camp residents. Calais has also become a stronghold for the National Front, Marine Le Pen's far-right party, and the site for France's only Pegida demonstrations. On Saturday, a group of anti-immigrant activists, who had been banned from organizing a rally, staged a "citizen's walk" through the center of Calais, in support of a French war hero, General Christian Piquemal, who had been arrested for speaking at an unsanctioned Pegida demo earlier this month.