'No ifs and buts': Turkey demands US support against 'Kurdish terrorists'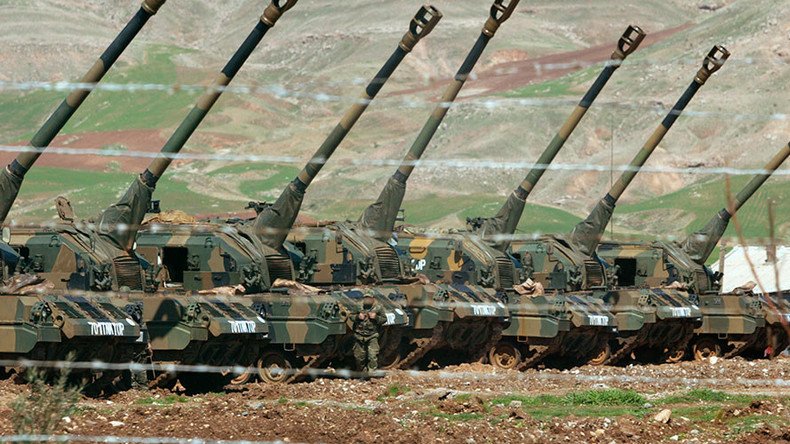 Ankara has urged Washington to unconditionally support the expansion of its battle against the terror threat, in particular Kurdish militias, warning that those hindering Turkey's right to self-defense will be considered terrorists and acted upon accordingly.
"The only thing we expect from our US ally is to support Turkey with no ifs or buts," Turkish Prime Minister Ahmet Davutoglu told a news conference after a five-hour security meeting with cabinet and state officials.
Following the car bomb attack on a military convoy in Ankara this week which left 28 people dead, a breakaway faction of the outlawed Kurdistan Workers Party (PKK) claimed responsibility for the attack, and Turkey has vowed to intensify its fight against the Kurds both at home and in Syria.
"If 28 Turkish lives have been claimed through a terrorist attack we can only expect them [the US] to say any threat against Turkey is a threat against them," Davutoglu stated.
The US however considers the Syrian Kurdish YPG to be one of the main fighting forces against Islamic State (IS, formerly ISIS/ISIL) in Syria. Yet on Friday, during a phone conversation between President Barack Obama and his Turkish counterpart, the US leader stressed that "YPG forces should not seek to exploit circumstances in this area to seize additional territory," in northern Syria where the Syrian army and the Kurdish militia, aided by Russian air power, have been making large gains.
Turkey in the meantime views all Kurdish militia that are also spread widely throughout Syria and Iraq as a direct national threat. Following on his earlier promise this week Recep Tayyip Erdogan has once again reiterated on Saturday that Turkey will strike Kurds everywhere.
"Turkey will use its right to expand its rules of engagement beyond [responding to] actual attacks against it and to encompass all terror threats, including PYD and Daesh in particular," Erdogan said at a UNESCO meeting in Istanbul.
Furthermore, Erdogan warned that those opposing Ankara's fight with the Kurds will be deemed as "terrorist" by the Turkish state.
"Whoever prevents us from using our right of self-defense, we will recognize it as a terrorist and act accordingly," he added.
Turkey's presidential spokesman meanwhile said that supporting YPG in Syria against the Islamic State is making the situation worse.
"Those who are supporting terrorist groups in the name of fighting Daesh are only contributing to an already-worsening situation," Ibrahim Kalin said in an opinion piece in Turkey's Daily Sabah newspaper.
READ MORE: Turkey's shelling of Syria amid 'unique' intl peace effort unacceptable – Russia's UN envoy
He accused the YPG of manipulating the war in Syria: "In the name of fighting Daesh, it is acting as a client organization to the US, Russia and Syrian leader Bashar Assad's regime at the same time," the spokesman wrote.
Kalin said that Ankara has "rightly reacted" to continued US support to the YPG, without elaborating further. But he did criticize the way events are unfolding in Syria presenting the Turkish version of the discourse of the war.
"While the YPG attacks the other opposition groups fighting against Daesh, Daesh remains as powerful and operational as before and the Assad regime gets stronger by the day," Kalin said.
Earlier this week, the UN Security Council president released an unofficial warning to Ankara over its actions in the region, urging it to comply with international law and to stop the shelling the Syrian Kurds.
READ MORE: US, France say Russia's draft resolution on Syrian sovereignty has 'no future'
On Friday however Washington rejected a Russian draft resolution which condemned any plans for foreign military intervention in Syria. Russia's latest concerns are related to a dangerous escalation on the Syrian Turkish border amid Ankara's alleged plans to put boots on the ground in northern Syria, which Damascus has called a violation of Syria's sovereignty.
You can share this story on social media: