PKK splinter group claims responsibility for Ankara bombing, says it's revenge for Cizre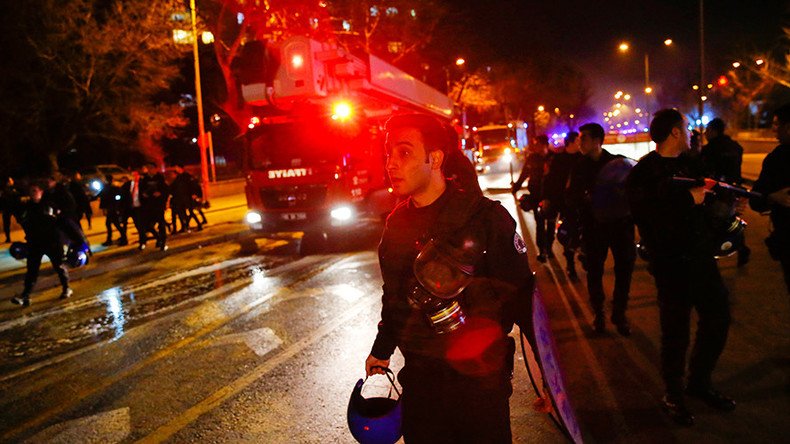 The Kurdistan Freedom Hawks (TAK), a Kurdish militant group, has claimed responsibility for the Ankara bombing that killed 28 people this week, according to its website. It said the attack was in retaliation for Ankara's military operation in Turkey's southeast.
The TAK, which is a splinter group of the outlawed Kurdistan Workers' Party (PKK), vowed to continue its attacks.
The militant group claimed in the statement published on Friday that the Ankara blast was carried out to avenge the "defenseless and wounded civilians brutally massacred in basements in Cizre."
"Everyone should know that those who ordered the massacre of civilians were responsible for the Ankara incident."
It identified the perpetrator of the Ankara bombing as a 26-year-old Turkish national born in the eastern city of Van.
The militant group operates in Turkey and northern Iraq and is regarded as a terrorist organization by Ankara and the US. It has claimed responsibility for a number of attacks since 2004. The latest one was the December mortar attack at Istanbul's Sabiha Gokcen airport that killed one man and damaged five aircraft.
The TAK has said that it severed links with the PKK. The latter, in turn, has reportedly denied having any control over the TAK.
The group is seeking the creation of an independent Kurdish state that encompasses parts of southeast Turkey.
Meanwhile, the Turkish government had accused forces linked with the Syrian Kurdish YPG militia of the terror attack in Ankara. Prime Minister Ahmet Davutoglu vowed to continue the military efforts against Kurdish groups in Syria.
In turn, Syrian Kurds denied responsibility and blamed Islamic State militants (IS, formerly ISIS/ISIL) for the attack.
In recent months Turkey has been stepping up a military crackdown in its southeastern regions, populated predominantly by Kurds. Erdogan has vowed to continue the military campaign until the area is cleansed of PKK militants.
Earlier in February, Turkish Interior Minister Efkan Ala said that a military operation against the Kurdish militants in the country's southeastern district of Cizre had been completed. The district became the venue of bloody fighting after a ceasefire between the Turkish government and PKK disintegrated in July 2015. According to reports, dozens of injured people were trapped in basements without food, water or medical supplies while medical access to the area was denied.
Meanwhile, on Friday, a member of the Turkish parliament from the pro-Kurdish Peoples' Democratic Party (HDP) accused the military of atrocities claiming they had "burned alive" more than 150 people trapped in basements.
"In the Cizre district of Sirnak, around 150 people have been burned alive in different buildings by Turkish military forces. Some corpses were found without heads. Some were burned completely, so that autopsy is not possible," Feleknas Uca told Sputnik, adding that "most" of those killed were Kurds.
You can share this story on social media: