US, France say Russia's draft resolution on Syrian sovereignty has 'no future'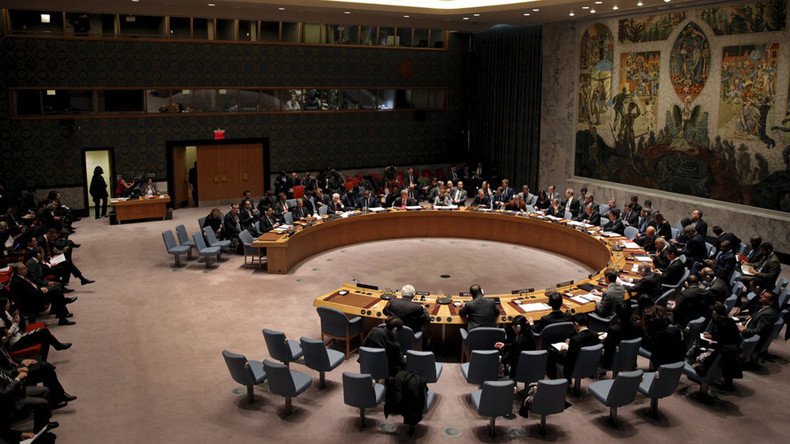 A Russian draft resolution condemning any plans for foreign military intervention and warning against violations of Syrian sovereignty has been rejected by the US and French ambassadors, as having 'no future' ahead of a UN Security Council meeting.
Yet despite opposition from some of the UNSC members, Russia's Deputy Permanent Representative to the UN Vladimir Safronkov told RT that there had also been "positive" reactions to the Russian proposal.
"I told our western partners, that everything that is included in the draft was previously voiced by them, declared by them and repeated many, many times," Safronkov told RT, adding that Russia will press forward with negotiations over the draft in the hope that the resolution "will be adopted soon."
The draft, the diplomat stressed, reflects the key principles of the UN charter, compliance to which "becomes fundamental in nature because all of us are working intensely on the parameters of a political settlement in Syria."
The Russian diplomat stressed that unless the document is adopted, "achieving a lasting peace settlement would be very difficult."
The Moscow-proposed draft calls on all states to avoid "provocative rhetoric and inflammatory statements" that could further incite foreign interference in Syria's internal affairs, instead of promoting a political settlement to the conflict.
However, the US and French ambassadors to the UN both said that the Russian draft resolution had no future ahead of the closed-door session, Reuters reported. France's Francois Delattre also criticized Russia as a contributor to a "dangerous military escalation that could easily get out of control," according to AFP.
Meanwhile Samantha Power went a step further towards accusing Moscow of trying to "distract the world" with its Security Council resolution.
The United Kingdom, in addition to Ukraine, Spain and New Zealand also reportedly voiced objections to the initial draft presented by Russia, a diplomatic source told RIA Novosti.
READ MORE: Dozens of Turkish military vehicles cross Syria border, dig trenches – report
Russia's latest concerns are related to a dangerous escalation on the Syrian Turkish border amid Ankara's "announced plans to put boots on the ground in northern Syria," Foreign Ministry spokesperson, Maria Zakharova, said on Friday, adding that the situation in the region is worrying because Islamic State (IS, formerly ISIS/ISIL) fighters are freely entering Syria.
You can share this story on social media: