Dozens of Turkish military vehicles cross Syria border, dig trenches – report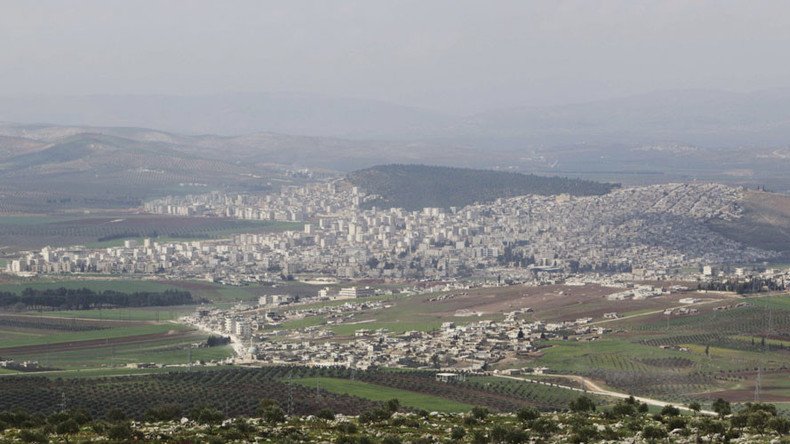 Turkish military vehicles have crossed into a Kurdistani area in Syria, Afrin, just over the border, a Kurdish news agency reported adding that the troops started to dig a trench near Meidan Ekbis, a town in Aleppo province.
Dozens of Turkish military vehicles advanced 200 meters into the Syrian Kurdish region in Aleppo province on Thursday, ANHA news agency reported.
It added that the troops started digging a trench between the towns of Sorka and Meydan Ekbis. According to the agency the construction of a concrete wall on the Syrian border in the area is ongoing as well.
The agency posted photos of ongoing operations on its website.
The Syrian Afrin district bordering Turkey is predominantly Kurdish with a population estimated to be of more than 170,000 people according to a 2004 census. The area is part of a de facto autonomous region of Rojava, or Syrian Kurdistan since 2013.
A Turkish security source told Reuters that they country's military shelled Kurdish YPG militia positions in northern Syria on Thursday. The source added that the shelling came in response to cross-border fire.
The developments come as Turkey accused forces linked with the Syrian Kurdish YPG militia of an explosion in Ankara that killed 28 and injured 61 more. On Thursday, Turkish Prime Minister Ahmet Davutoglu vowed to continue the military efforts against Kurdish groups in Syria. The Syrian Kurds, in turn, denied responsibility for the attack and put the blame on Islamic State militants (IS, formerly ISIS/ISIL).
Turkey has been stepping up military activity if the areas with a predominantly Kurdish population, which include its own territories in the southeast as well as areas in northern Syria and Iraq.
Turkish military has been intensely shelling Syrian Kurds despite UN Security Council (UNSC) warning on Tuesday which urged Ankara to comply with international law.
The Kurdish region in northern Syria is a stronghold of the Democratic Union Party (PYD) and its activists, as well as YPG militia. Turkey has claimed that PYD is affiliated with the Kurdistan Workers' Party (PKK) which is considered to be a terrorist group by Ankara and its ally the US.
Although Turkey views the PYD as merely a Syrian branch of the PKK, the US has backed the Syrian Kurds which have been one of the key forces fighting against the IS in the region. Ankara has been sending diplomatic signals to Washington that it is discontent with Washington's support of Syrian Kurds.
On the other hand, Washington has been mounting pressure on Ankara to seal its frontiers with Syria. In December, Davutoglu stated that closing the country's border with Syria is extremely difficult, despite the fact that most of it is "under Islamic State control." He added that instead Turkey is putting countermeasures in place, which include physical barriers on the entire border.
Meanwhile, the Russian Defense Ministry has recently released images and satellite intelligence proving the illegal oil supplies are being delivered across the Turkish-Syrian border on three main routes leading to Mediterranean ports, Batman oil refinery on the Turkish territory and a large transfer base in Turkey's Cizre, respectively. Russia claimed that those oil supplies widely benefit Turkish President Recep closest relatives and help funding IS militants in Syria.
You can share this story on social media: