Turkey's shelling of Syria amid 'unique' intl peace effort unacceptable – Russia's UN envoy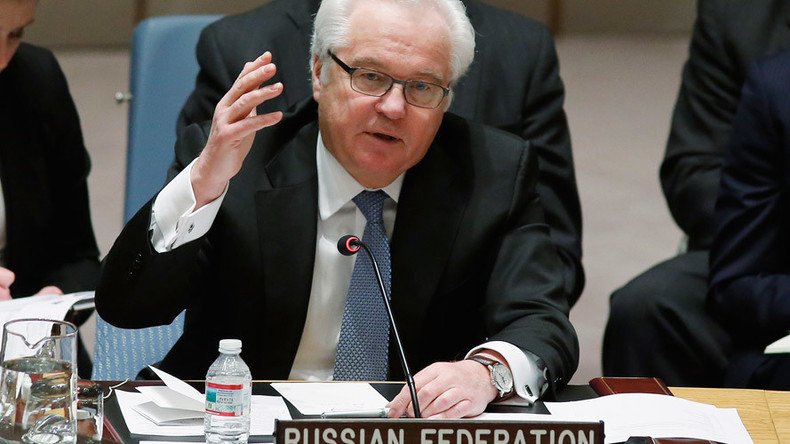 If Turkey continues to shell the Syrian town of Azaz amid the diplomatic community's "unique" consolidated effort to negotiate a truce, the UN Security Council will be forced to officially condemn Ankara's violation of international law, Russia's UN envoy told RT.
Following a meeting of the United Nations Security Council (UNSC) on Tuesday regarding the ongoing Turkish shelling of Kurdish YPG militia targets in Syria, the council's president urged Ankara to "comply with international law." While falling short of full-blown condemnation into the violation of Syrian sovereignty following the non-stop shelling of Syria, the UNSC reiterated its commitment to the Munich agreement, which seeks a ceasefire in a five-year conflict.
READ MORE: UNSC urges Turkey to 'comply with intl law' in Syria after Russia requests meeting
READ MORE: UNSC urges Turkey to 'comply with intl law' in Syria after Russia requests meeting
"I think that if Turkey continues their shelling, then we will have to once again address this issue...If these actions continue we most likely will need to talk about drafting a Security Council document, that will outline the [UNSC] position, warning Turkey that such actions are unacceptable," Russian Ambassador to the UN Vitaly Churkin told RT.
Last Friday at an international meeting in Munich, Russia and the US agreed to seek a "cessation of hostilities" in Syria. The truce would not apply to the battle against terrorist groups such as Islamic State and Al-Nusra Front and was initially scheduled to begin by February 19.
Yet Turkey's ongoing shelling of Kurdish and Syrian government forces in the vicinity of Azaz, as well as strong American rhetoric against Moscow's successful anti-terror offensive in Syria, now casts doubt on how the much-needed ceasefire will be achieved. The developments took a further twist, when on Wednesday Turkey openly declared that it seeks to create a secure zone 10km into Syria, to include the border town of Azaz.
Calling the consolidated diplomatic effort backed by a UNSC resolution last year and the recent Munich agreement a "unique" one, Churkin called on the international community to maintain the "pace" of the conflict resolution process, despite the recent speed bumps.
"But this will be a very difficult path, because different players have different views on how to move forward. Not everybody wants a swift political settlement. But it is important that we have achieved this pace, that Russia is working together with the US in trying to resolve the crisis," Churkin told RT. "I hope this unique chance will not be wasted."
You can share this story on social media: