Private stash: $850mn of meth seized in bra implants by Aussie cops
Published time: 15 Feb, 2016 07:28
Edited time: 15 Feb, 2016 07:39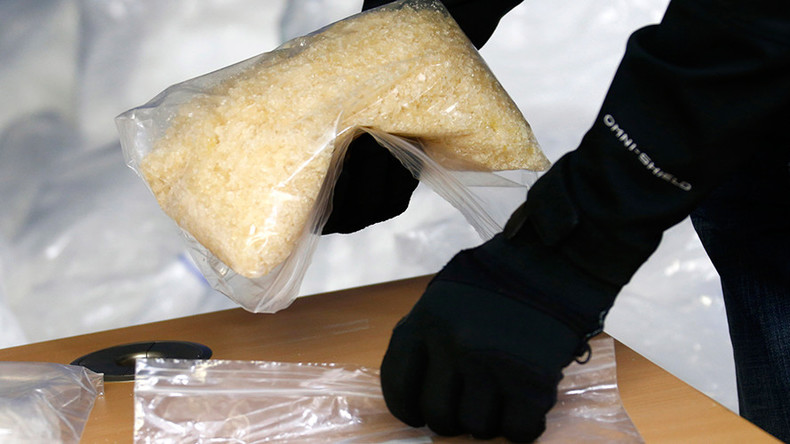 Australian police have seized more than 1.2 billion Australian dollars' ($850 million) worth of meth from a shipment of silicon bra inserts and art supplies. Four people have been arrested for their alleged role in manufacturing and importing the drug.
The four arrested are all Hong Kong nationals, aged between 33 and 59. One of them was a 52-year-old woman.
The drug, also known as 'ice,' was seized in a joint operation involving federal, New South Wales police, the Border Force and the Australian Crime Commission, The Guardian reports.
"This has resulted in 3.6 million individual hits of ice being taken off our streets with a street value of $1.26bn," Michael Keenan, NSW justice minister, told reporters on Monday in Sydney, adding that this is the largest liquid meth seizure in Australian history and one of the largest meth seizures in the country's history.
The operation has been on since December, when border authorities first discovered 190 liters of liquid methamphetamine inside a shipping container in Hong Kong, police said. Another 530 liters were discovered as part of a joint effort.
"These drugs were concealed inside art supplies housed in five storage units in Sydney in the suburbs of Miranda, Hurstville, Padstow and Kingsgrove," Commander Chris Sheehan said.
The first arrest was made during the first seizure, and others followed shortly.
"This has been a very good day for Australia law enforcement and a very bad day for the organized criminals that have been targeting the Australian drug market," Keenan said.
The country is struggling with a methamphetamine problem. Authorities say since March of last year about 1.3 million Australians have used crystal meth and other methamphetamine derivatives. They also noticed a strong increase in the use of 'ice' in particular; known also as crystal (or liquid) meth, it is the most potent, addictive and harmful form of methamphetamine. Since 2010, the proportion of ice users soared.
According to ABS-CBN News, the current bust was the biggest since 2014, when Australian authorities seized $1.5 billion Australian worth of methamphetamines and ecstasy (a weaker amphetamine in pill form) in a shipment arriving from Europe.
READ MORE: 'Staggering corruption': Feds accuse 49 Georgia prison guards of taking bribes, drug trafficking
Because of its proliferation and owing to Australian police stepping up its efforts, ice costs much more at home than elsewhere. The shipment being from Hong Kong makes sense: while the Australian street price is $500 Australian ($358) a gram, in China it's only $80.
China is also the world's largest manufacturer of the components needed to make meth and other drugs, according to the UN. The country itself had 14 million drug addicts in 2014, the Chinese National Narcotics Commission, as cited by ABC-CBN News.