Greek police fire tear gas at rally protesting construction of refugee center on tourist island
Published time: 14 Feb, 2016 21:04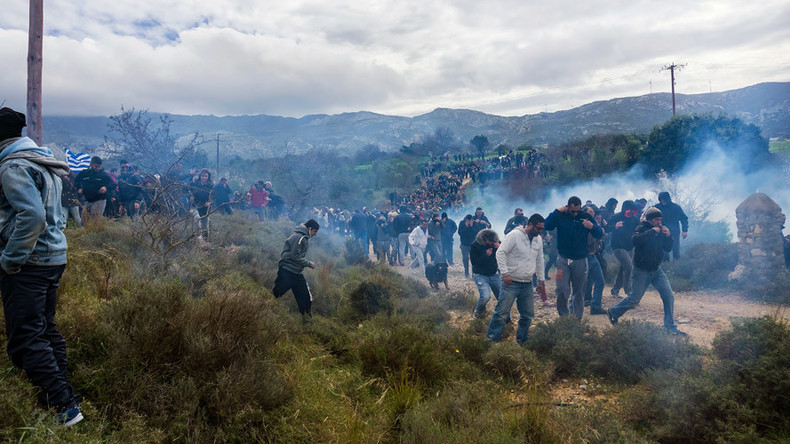 Police have fired tear gas at protesters on the Greek island of Kos, where several thousand people rallied against the construction of a refugee facility.
Kos is a tourist hub that found itself on the frontline of Europe's migrant crisis last year. Locals fear that migrants will deter holiday makers from visiting the island.
"Some 2,000 people have turned up to the protest on Sunday," RT's Nikki Aaron reported from Kos.
"We want them to come, pass by, make their papers, and go away wherever they want to go. Here is a tourist place; we have people that come here for holidays – they can't stay together [with refugees]," one of the demonstrators explained.
Waving Greek national flags, the people marched from the center of the island to the abandoned army base outside the village of Pylio where the migrant "hotspot" is to be erected.
The construction site was guarded by riot police, who were fully geared and carrying shields.
According to Aaron, six or seven rounds of tear gas were fired by the police to disperse the crowd, which included "women, children and elderly people."
"The riot police, they weren't holding back as soon as any protester started to push forward, they retaliated," RT's correspondent said.
READ MORE: Erdogan threatened to 'open doors to Greece and Bulgaria' and flood EU with migrants – report
It was the second such rally against the new migrant center, with around 1,000 gathering in protest at the island's port on Wednesday.
Kos is situated just a few kilometers from the Turkish coast and has a population of just over 33,000 people.
READ MORE: EU gives Greece 3 months to fix borders or risk Schengen suspension
The Greek government in Athens has promised to open more refugee centers on the islands of Chios, Leros, Lesbos, and Samos to help tackle the crisis.
With thousands of newcomers passing through Greece into the European continent on a daily basis, the EU has told Greece to impose stricter controls or face exclusion from the Schengen free-travel agreement.