Erdogan threatened to 'open doors to Greece and Bulgaria' and flood EU with migrants – report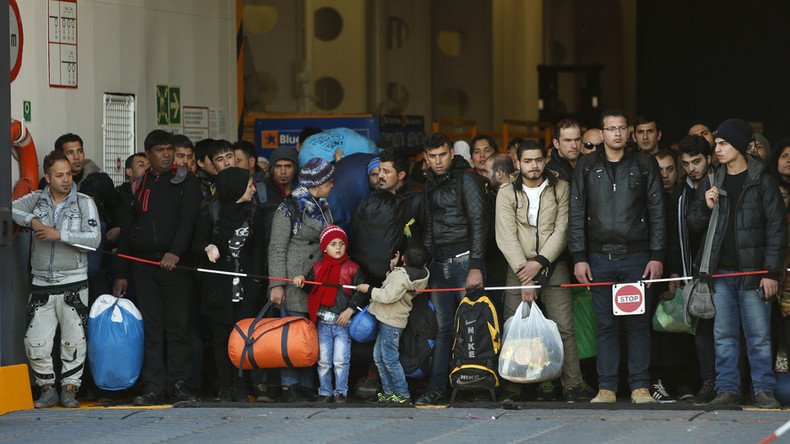 Turkish President Recep Tayyip Erdogan threatened to "put refugees on buses" and flood Europe with migrants if EU leaders did not offer him enough cash to help curb the influx of asylum seekers, a leaked record of a high-level meeting claims.
"We can open the doors to Greece and Bulgaria anytime and we can put the refugees on buses," Erdogan was quoted as telling European Commission President Jean-Claude Juncker and European Council President Donald Tusk after being told that the EU was offering Turkey €3 billion over two years.
The minutes of the meeting that apparently took place in November in Antalya have been published by the Greek financial news website euro2day.gr
After Tusk mentioned the difficult situation in the European Union, Erdogan, who reportedly demanded €6 billion over two years, said: "So how will you deal with refugees if you don't get a deal? Kill the refugees?"
During a heated debate, the Turkish president warned that up to 15,000 migrants could wash up dead on Greek shores. Last January alone, at least 244 refugees and migrants drowned trying to reach Europe via the Mediterranean Sea, according to the International Organization for Migration (IOM).
Turkey is a primary destination for asylum seekers and migrants who want to cross to Europe. In 2015, over 850,000 people reached Greece's shores from Turkey, while the total number of migrants who entered the EU – also via Italy and Spain – exceeded 1 million.
The Turkish president, who often reportedly interrupted Juncker and Tusk, also slammed the publication of a negative report by the European Commission of Turkey's suitability for joining the EU. The report, which criticized Erdogan's AK Party over media freedom and judicial independence, was originally due to have been published in mid-October last year, but was held back until after the November 1 general election in Turkey.
According to the euro2day.gr, Erdogan called the report "an insult," adding that "most Turks don't want to become members of the EU because of reports like that."
"You never come to me to hear the truth," he reportedly added.
Juncker was quoted as saying that the report was delayed on Erdogan's request. "Why else would we be willing to get criticized for it [delaying the report]?" he said, according to the transcript.
The European Commission President added fuel to the fire, saying the Turkish president had been treated "like a prince" at a Brussels summit.
"Like a prince?" Erdogan reportedly said, "Of course, I'm not representing a third world country."
"But don't smear it [EU hospitality] in my face," the Turkish president added, accusing the European Commission President of being "disrespectful."
"I represent 80 million people," Erdogan reportedly said.
The European Council and the European Commission declined to confirm or deny the authenticity of the transcript, Reuters reported.
"If the relevant dialogues between the EU officials and the Turkish President are true, it seems that there are aspects of the deal between Ankara and the EU which were concealed on purpose," Miltos Kyrkos, a member of the European Parliament from the Greek centrist party To Potami told Reuters.
"We want immediately an answer on whether these revelations are true and where the Commission's legitimacy to negotiate, using Turkey's accession course as a trump card, is coming from," he added.
On November 29, Turkey did sign an agreement with the EU at a summit in Brussels in which the country agreed to help stem the flow of migrants to Europe in return for €3 billion of support and the reestablishing of talks on Ankara's EU accession. However, according to an EU report seen by Reuters in December, Turkey (which hosts over 3 million refugees, with about 2.5 million of them from Syria) failed to significantly reduce departures of migrants for Greek islands in the two weeks since it signed an agreement to do so.
You can share this story on social media: