No free lunch? Swiss tempted by vote granting $2,400 monthly stipend to adults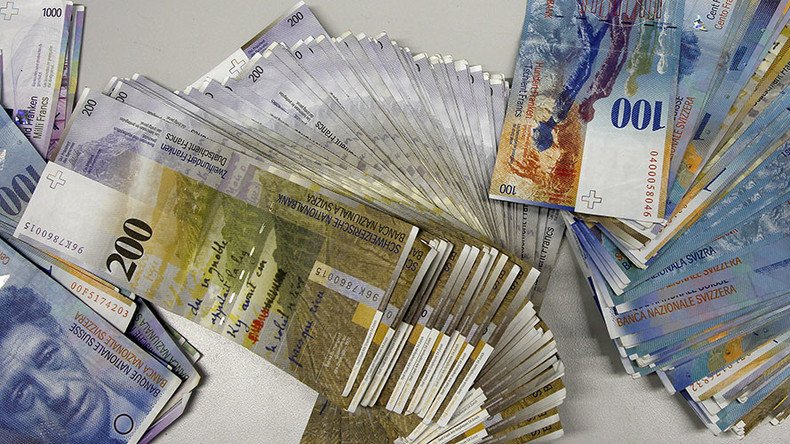 Forget about paltry social benefits like food stamps, housing subsidies, or Obamacare: in Switzerland, every adult citizen could soon be enjoying a guaranteed monthly allowance of 2,500 Swiss francs (more than $2,400) – provided they vote to approve it in June.
READ MORE: Swiss booty call: $380mn in 'looted' funds return to Nigeria
One might wonder how any reasonable person could miss an opportunity to vote themselves a free monthly paycheck for no work – but the Swiss actually appear to be quite skeptical about the idea.

Perhaps they are aware of the famous quote by Benjamin Franklin, one of America's founding fathers whose face adorns the $100 bill, who said: "When the people find that they can vote themselves money that will herald the end of the republic."
Introduced by a group of intellectuals, the plan to provide Swiss citizens with an unconditional monthly income hasn't received much support from either left- or right-wing politicians.

However, as the petition had gathered enough signatures, the Swiss government has now scheduled a national referendum on the issue for June 5, making Switzerland the first country in the world to vote on a guaranteed financial stipend for every citizen.

The chief concern is both the employed and unemployed would be entitled to receive the proposed payment. Every child would also be getting 625 Swiss francs (about $610) monthly "for free." The Swiss, who are reputedly a very pragmatic people, are thus posed with the question: "would anyone want to work?"

The stipend's backers, led by a group of Swiss intellectuals, artists and writers, say the plan is aimed at breaking the connection between employment and income and refute concerns that people will cease looking for jobs or quit working. Some surveys have painted a fairly bright picture. A public poll cited by The Local showed that only two percent of respondents would consider quitting their job, depending on circumstances.
READ MORE: Switzerland to hold referendum on banning private banks from creating money
"The argument of opponents that a guaranteed income would reduce the incentive of people to work is by this largely contradicted," the initiative's committee said in a statement, citing the survey.

However, more than 50 percent of respondents added they believe the initiative has no chance of being approved.

Should it pass, the initiative could cost Switzerland nearly $208 billion a year. More than half of that sum would be raised from taxes, while the rest would be supplied by the Swiss social insurance system.
READ MORE: Switzerland follows Denmark's lead to seize assets from refugees to pay for upkeep

You can share this story on social media: