Swiss to vote on sweet minimum monthly income: $2,800
Some 120,000 Swiss signatories have put their names to a petition demanding a minimum disposal household income of $2,800 per month for every single member of the working adult population. Enough names have been collected for a government vote.
Anything less than the proposed amount of 2,500 Swiss francs would be deemed illegal, even for people working in the lowest paid jobs. A typical fast-food worker in the US earns roughly $1,500 per month.

"It could be one of the landmark historical moments, like the abolition of slavery, or the civil rights movement – of course, those who don't want it will find excuses, but those who do want it will find solutions," Enno Schmidt, founder of the Basic Income Initiative, told RT.

A date for the vote itself is yet to be confirmed, however, it could take place before the end of this year, depending on the decision of the Swiss government. The "1:12 initiative" has gained support across the government's social democrat bloc.

To mark the day, a truck full of 8 million five-cent coins was deposited on the square and spread out in front of the Swiss Parliament in Bern on Saturday.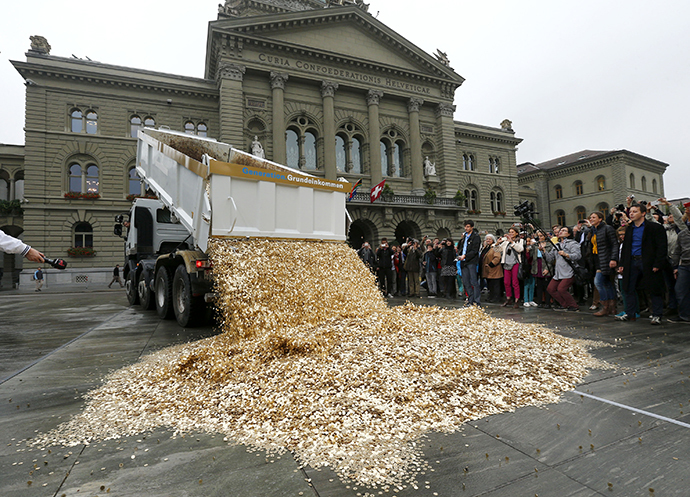 The money to fund the measure, should it pass, would likely be supplied by the Swiss social insurance system. 
"If there's anywhere that can finance this, it's Switzerland. Right now we have the ball rolling – it's down to a 'yes' or 'no' question. It will then be up to lawmakers to determine exactly where the money will come from," said Oswald Sigg, former Swiss Vice-Chancellor.
However, it has caused serious concerns about tax rises and pension loss.
"The older generation lived their whole lives in another system so it's harder for them to actually realize what this means. They have fear, of course, for their pensions, and don't instantly get that this is a replacement of an old system," said Che Wagner one of the co-starters of the Basic Income Initiative.
As Switzerland has the 100,000 signature threshold, the country frequently votes on public measures. On November 24, the country will vote on another initiative to cap executive pay at the maximum of twelve times the lowest paid salary member. 
One of Switzerland's biggest CEOs has stated that if the measure passes, he would seriously contemplate moving his company out of the country. "I can't believe that Switzerland would cause such great harm to its economy," Glencore CEO Ivan Glasenberg told the Swiss Broadcasting Corporation.
You can share this story on social media: