'Champions League criminals': Human smugglers grab $6bn in 2015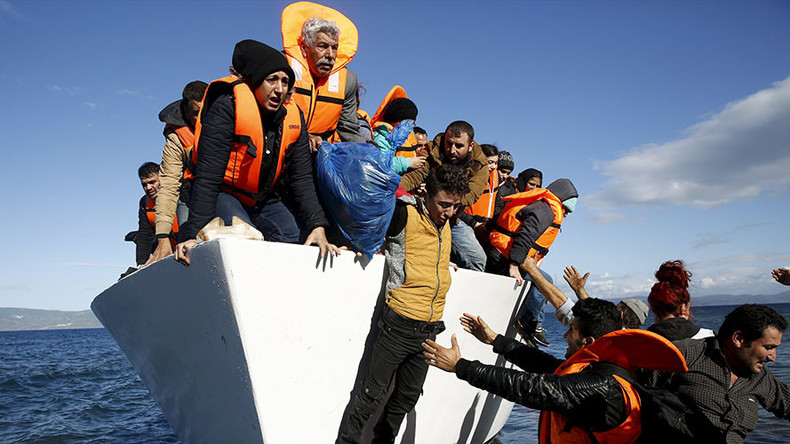 Human trafficking groups are making record superprofits as they cash in on over a million people fleeing conflict zones. Speaking to The Independent on Sunday, the head of Europol says that criminal gangs could have raked in as much as $6 billion in 2015.
Rob Wainwright, the head of Europol, the European Union's law enforcement agency, says that human smugglers are making such a profit that it is close to rivaling the illegal drugs trade and is now in the "Champions League" of criminal enterprises.
With over a million people desperate to flee their homelands to avoid war and poverty, according to the UNHCR, the UN's refugee agency, the smuggling groups are cashing in on their plight. New research conducted by Europol found that following debriefings with 1,500 asylum seekers, around 90 percent had paid smuggling networks to try and help them reach Europe.
"We also know that, on average, each migrant is paying between $3,000 and $6,000 to a criminal facilitator for their journey. So you do the simple math, and you're up to a turnover in 2015 of between $3bn-$6bn. They are big figures. It's running into billions of dollars made by criminal networks in one year alone in Europe," Wainwright told The Independent on Sunday.
The head of Europol says that the tentacles of the criminal gangs stretch from sub-Saharan Africa to Scandinavia, while there are tens of thousands of people involved in their well-organized operations. With people smuggling becoming an ever increasingly lucrative business, Wainwright says that more needs to be done to try and tackle the problem, such as increased intelligence sharing.
"We're going to have to up our game in terms of dismantling this criminal infrastructure in a more successful way then we have done in the past," he added.
The Europol chief also mentioned that Greece needs more help to stem the flow of migrants. The Mediterranean nation has become the first entry point for hundreds of thousands of refugees. In October, the UNHCR stated that Greece had seen over half a million migrants arrive on its thousands of islands.
Wainwright said that Athens should be provided with more technology, manpower and resources to make sure that refugees entering the country also do not have links to Islamic extremist groups, after two members who helped carry out the deadly Paris attacks on November 13, which killed 130 people had passed through Greece.
"When you put the external border of the EU under such strain that it has to cope with a million new arrivals at just a few of the external border points, then you can see how difficult it is to run a systematic and reliable screening process," he said.
"This is the single most important thing to get right: to make sure that we can help the Greek authorities, who have been swamped," he concluded.
On Friday, the head of the European Commission, Jean-Claude Juncker, said that EU member states had "failed to deliver" on efforts to resolve the refugee crisis. He also added that the Commission is "getting a little tired" of being blamed for not doing enough to resolve the refugee crisis.
So far, just 272 refugees have been moved to other countries out of the 160,000 that EU nations agreed to relocate, AFP reports. The relocation plan, aimed at moving asylum seekers from the frontline countries of Italy and Greece, was approved in October despite opposition from several Eastern European states.
The influx of refugees has placed a strain on EU member states. Austria, which is faced with an influx of asylum seekers arriving from Slovenia and Croatia, is currently seeking the support of Germany to send its own police into those countries to check the flow of refugees arriving into Austria.
The refugee crisis is also putting pressure on Germany and Sweden, both of which had an open-door policy to new arrivals.
Although German Chancellor Angela Merkel has welcomed refugees into the country, other political leaders have fought back against her decision. On Thursday, the head of a Bavarian district sent a bus with some 30 refugees to Merkel's Berlin office, stressing that his region – which has borne the brunt of the refugee influx – has reached its capacity.
Sweden backtracked on its open-door policy in November, with the country reverting to the EU minimum of asylum seekers. "It pains me that Sweden is no longer capable of receiving asylum seekers at the high level we do today. We simply cannot do any more," Prime Minister Stefan Löfven said at the time.
You can share this story on social media: