Eats well, found girlfriend: Russian replacement for slain police dog enjoys life in Paris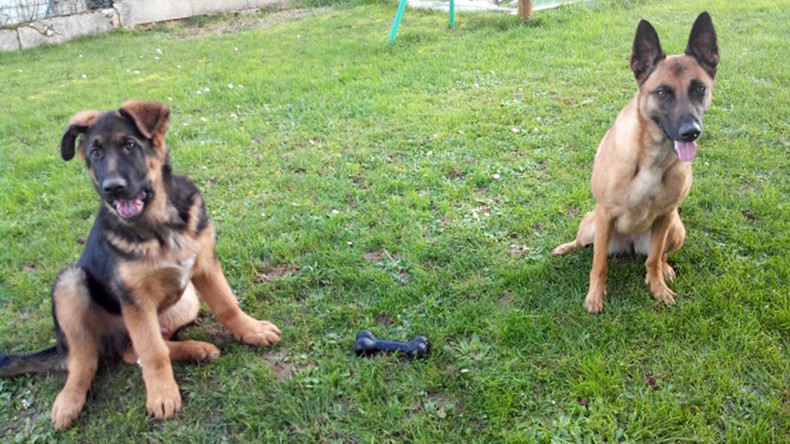 A super-cute puppy named Dobrynya, presented by Russia to France to replace the hero dog Diesel, killed in an anti-terrorist raid in a Paris suburb, seems to be enjoying his new life in the French capital, even finding a girlfriend.
The fluffy German shepherd puppy named after a Russian epic knight, a symbol of strength, kindness and bravery, arrived in France January 8. Dobrynya was given "a royal reception" – he was met in Charles de Gaulle Airport by 30 members of police, customs office and special services.
French police were grateful to their Russian colleagues for the new four-legged member. Now the puppy is getting his education with France national special forces and is learning how to detect explosives.
The Russian knight didn't lose courage in the foreign land – he easily found a girlfriend, four-year-old Belgian shepherd Ali.
"Dobrynya is feeling very well since arriving in France, co-existing with Ali without any problems. He is playful, friendly and helpful, and at the same time he is strong and has a good appetite," the Russian Interior Ministry said, citing their French colleagues.
READ MORE: Russia's puppy heading to France to replace dog killed in anti-terror raid (VIDEO)
In a gesture of support, the Russian ministry decided to send Dobrynya to French police after they lost a seven-year-old Belgian shepherd service dog named Diesel in the Saint-Denis raid against the suspected mastermind behind the deadly terror attacks in Paris that claimed 130 lives in November.
Diesel's death touched the hearts of people across the globe, with many taking to social media to mourn the brave dog. The hashtags #jesuischien (I am a dog) and #Diesel trended on the French Twittersphere in honor of the heroic canine.
READ MORE: 'Died for France': Mourning for police dog killed fighting terrorists in Saint-Denis
You can share this story on social media: