Hundreds of migrants try to storm Eurotunnel on Christmas Day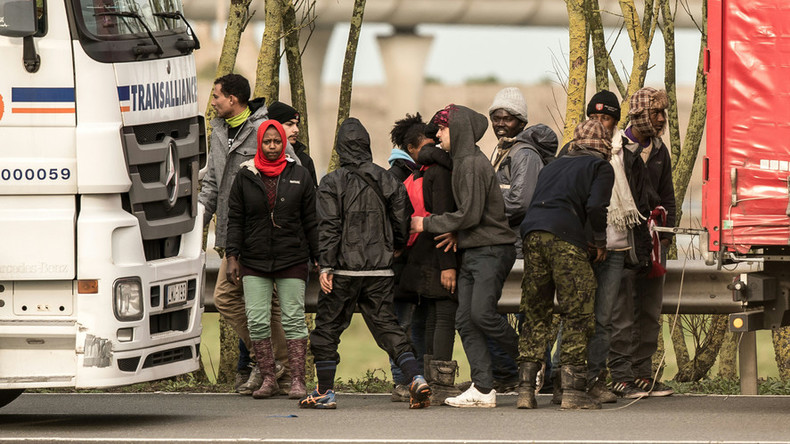 Hundreds of migrants stationed in Calais, France, have attempted to break into the Eurotunnel on Christmas day prompting local authorities to briefly close the nearby highway.
READ MORE: Aylan Kurdi's father calls on world to 'open doors' to refugees in Christmas message
"Around 4:00pm, hundreds of migrants, in small groups, attempted to break into the site," said the Pas-de-Calais prefecture, adding that the police have dispersed the refugees.
As a precaution, and "since the traffic was low today," the authorities decided to close the A16 highway briefly in both directions. The traffic on the highway runs parallel to the English Channel. The North Sea coast was blocked for about 30 minutes.
READ MORE: Calais: Hundreds of migrants attempt to storm Channel Tunnel (VIDEO)
For those migrants who are Christians, Christmas is a time of hope and miracles. They pray in small tents turned into churches and hope to cross the Eurotunnel to be in the UK with their families.
"Just wish to English government to open border…To join family," the desperate migrants told RT's Anastasia Churkina.
READ MORE: Banksy's 'Steve Jobs the Son of Syrian Migrant' pops up in Calais camp
The port of Calais has become the destination for thousands of migrants trying to enter the UK. One of the most notorious places in the city is the 'Jungle' camp, which is now a residence for 4,500 migrants. The camp is the site of regular clashes between asylum seekers trying to cross the border to the UK and police officers.
The influx of refugees has been blamed on higher security measures, which are making it more difficult for migrants to cross the English Channel and enter the UK. Most people living at the camp say they have fled conflicts in the Middle East or Africa.
According to recent figures from the Organization for Migration, a total of 1,005,504 people arrived in Europe during 2015, more than four times as many as 2014. Almost all arrived by sea, with 3,692 drowning during their perilous crossings.
You can share this story on social media: