Banksy's 'Steve Jobs the Son of Syrian Migrant' pops up in Calais camp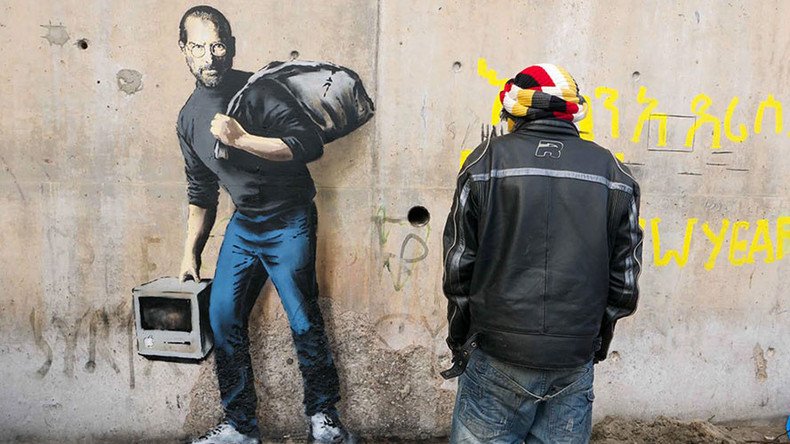 The renowned graffiti artist has struck again, drawing attention to the refugee crisis in the EU. An effigy of Steve Jobs has popped up on a wall in a camp in Calais – serving as a reminder that, at the very beginning, he was the son of a Syrian migrant.
The picture of the late pioneer of the microcomputer revolution carrying a rucksack appears on the wall in infamous Jungle refugee camp in the French port of Calais.
"The son of a migrant from Syria," the description under the picture reads. Apple reported worldwide annual revenue of about $234 billion in 2015, four years after Jobs died at the age of 56 after a long battle with cancer.
"We're often led to believe migration is a drain on the country's resources, but Steve Jobs was the son of a Syrian migrant. Apple is the world's most profitable company, it pays over $7 billion a year in taxes - and it only exists because they allowed in a young man from Homs," Banksy said in a statement.
Steve Jobs' father, Abdulfattah Jandali, was born into a Muslim household and grew up in the town of Homs, Syria. The 80-year-old has been living in the US for a long time now and is currently the Vice Chairman of the Boomtown Casino and Hotel in Reno, Nevada.
READ MORE: Dismal-aid! Banksy donates Dismaland attraction to shelter Calais migrants
This is not the first work of art by Banksy to be seen in Jungle refugee camp. In October Banksy Dismaland Bemusement Park was relocated there and renamed 'Dismal-aid.'
Calais is a popular destination for migrants who want to try their luck at illegally entering England via the Eurotunnel. Jungle camp has seen numerous clashes between refugees who are trying to cross the border to the UK and police officers.
The influx of refugees has been blamed on higher security measures that are making it more difficult for migrants to cross the English Channel and enter the UK. Most of the people living at the camp say they have fled conflicts in the Middle East or Africa.
You can share this story on social media: