Calais: Hundreds of migrants attempt to storm Channel Tunnel (VIDEO)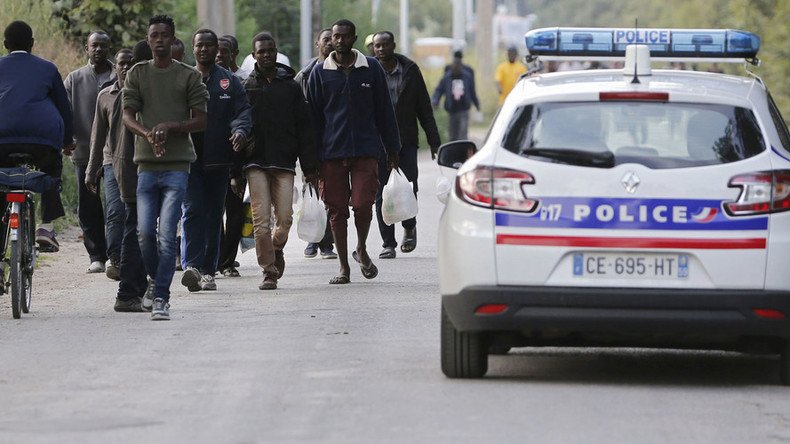 Up to 1,000 asylum seekers have attempted to storm the Channel Tunnel to get to the UK from Calais, officials said, adding that this move prompted various clashes between migrants and police officers.
"We noted the presence of 800-1,000 migrants … near the Channel Tunnel," a police source told AFP on Thursday. "As they approached the tunnel, several migrants tried hard to slow down the flow of traffic so they could climb into the trucks".
The number of asylum seekers during the daytime was "unprecedented," the source added, as migrants usually try to cross the Channel Tunnel at night.
An AFP journalist also reported several young men climbed on top of trucks heading towards Britain.
READ MORE: 'Like a war': Calais residents terrified over 3rd night of clashes between police & migrants
Some of these attempts ended in violence as migrants clashed with police, who had been called in to deal with the situation and ease the build-up of traffic. The road was eventually blocked for several hours.
"Security forces were deployed... objects were being thrown at them, and they had to resort to using tear gas," police said in a statement.
Voici le trajet emprunté par les clandestins aujourd'hui jeudi 17 décembre, pour se rendre sur l'autoroute pour attaquer les chauffeurs routiers. Cela est juste le trajet. La vidéo des attaques arrive dans quelques dizaines de minutes. vous pourrez apprécier le nombre de clandestins qu'il y a sur ce trajet.

Posted by Les Calaisiens en Colère on Thursday, December 17, 2015
The port city of Calais has become the destination for thousands of migrants trying their luck at entering the UK.
One of the most notorious places in the city is the 'Jungle' camp, where 4,500 migrants now live. The camp is the site of regular clashes between asylum seekers trying to cross the border to the UK and police officers.
READ MORE: 'We want to be safe': Calais engulfed in tensions, locals & migrants feel threatened by ISIS
You can share this story on social media: