Top Turkish 'traitors' according to Erdogan and Davutoglu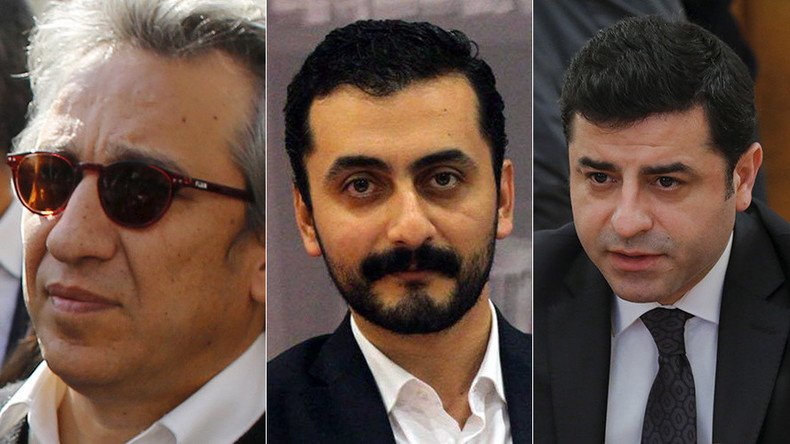 What does it take to be accused of "treason" in Turkey? Exposing the ruling circle's ties with terrorists and voicing opposition to the downing of a Russian plane is a start, but who are the people getting under the skin of President Erdogan and Prime Minister Davutoglu?
Selahattin Demirtas, co-leader of the People's Democratic Party (HDP)
The joint leader of the pro-Kurdish opposition party is the latest on the list of state traitors. Turley's PM Ahmet Davutoglu said Demirtas is a "disgrace" after the man criticized Ankara's decision to shoot down a Russian Su-24 warplane over Syria in November.
"They take sides with whoever Turkey is facing a crisis with. Demirtas saying in Moscow that Turkey's downing of Russian jet was wrong is a total disgrace and treason," Davutoglu told a meeting of businessmen in Ankara.
Demirtas' comments about the downing of the Su-24 came Wednesday during a meeting in Moscow with Russian Foreign Minister Sergey Lavrov, where he said: "We criticized the government's actions when the Russian plane was taken down."
His party slammed Davutoglu's reaction as "unacceptable" and stressed they had been voicing this stance since they first heard about the incident.
Eren Erdem, MP, Republican People's Party (CHP)
The deputy stands accused of "treason" for telling RT that Islamic State (IS, formerly ISIS/ISIL) had obtained sarin gas supplies via Turkey. He also alleged that Ankara had done nothing to stop the flow, despite having all the evidence at their disposal.
"There is a deputy in this country, buried so deep in a pit of betrayal, and to a party that claims to be as old as the republic, saying during an interview to a foreign television channel that Turkey is selling chemical weapons to terrorists," a furious Recep Tayyip Erdogan told a crowd in the city of Konya.
READ MORE: Turkish MP faces treason charges after telling RT ISIS used Turkey for transiting sarin

The irony was that Erdem was not actually saying anything that the government did not already know. He was merely citing details from a court case, which was abruptly closed by the General Prosecutor's Office.
Can Dundar, Cumhuriyet newspaper editor-in-chief
The head of one of Turkey's main opposition newspapers was accused by Erdogan of "spying," which the president likened to "treason." This was after the outlet's May publication of photos picturing weapons which it said were transferred to Syrian extremists by Turkey's intelligence agency in 2014.
"This slander and this illegitimate operation against the National Intelligence Organization (MIT) are, in a way, an act of espionage. This newspaper got involved in this espionage activity, too," Erdogan told the TRT public broadcaster in June. The complaint filed against Dundar said the report was a fabrication "violating confidentiality."
Speaking in court in late November while facing charges of treason, Dundar defended the publication, saying: "We came here to show and to prove that governments cannot engage in illegal activity and defend this."
The crackdown and accusations of treason do not stop there. Erdem Gul, a senior editor at Cumhuriyet, has also been detained alongside Dundar. Supporters of the two held a rally outside the daily's offices in Ankara and Istanbul. However, the demonstration was brutally broken up by police, who used pepper spray to disperse the protesters.
In November, two editors of a leftist Turkish magazine were arrested in Istanbul for publishing a controversial front cover, with the phrase: "The start of civil war in Turkey."
Nokta's editor-in-chief Cevheri Guven and managing editor Murat Capan were detained on charges of attempting to overthrow the government by force.
READ MORE: Turkey arrests opposition journalists for 'plotting coup' in wide-ranging crackdown

Meanwhile, in another instance of crackdown, riot police interrupted a live broadcast as they broke into the offices of TV channels owned by Koza Ipek in October. Ipek has links with Fethullah Gulen, a Sunni preacher who was once Erdogan's close ally, but has now become his nemesis.
Even children are unable to escape the clutches of Erdogan's crackdown. In late October, two boys aged 12 and 13 were accused of ripping up posters of the Turkish leader, which could land them in prison for four years for "insulting" the president.
READ MORE: Teenagers face 4 years in prison for ripping up posters of Turkish president

"Lately, the head of state has a more autocratic and totalitarian way of governing. He can't handle any critics," Ismail Korkmaz told RT.
You can share this story on social media: