Ankara decision to down Russian Su-24 bomber wrong - pro-Kurdish Peoples' Democratic Party leader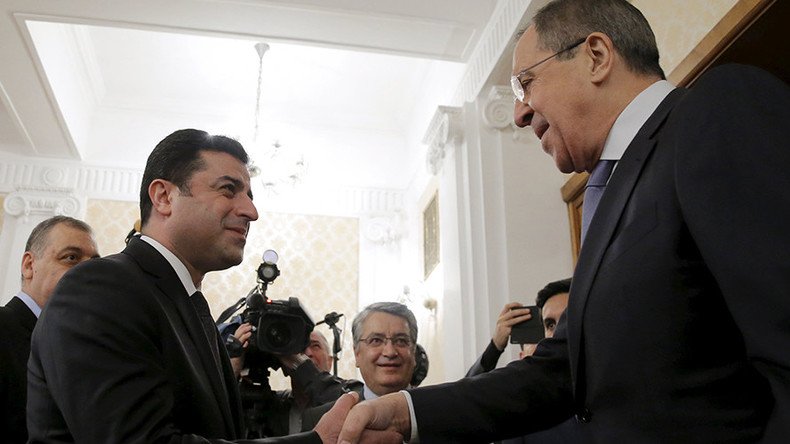 Turkey's decision to take out Russia's Su-24 was a mistake, and now it's time to look for a solution to the situation, co-chairman of the Turkish People's Democratic Party told Russia's Foreign Minister Sergey Lavrov at a meeting in Moscow.
"We criticized the government's actions when the Russian plane was taken down," Selahattin Demirtas said at the joint meeting adding there can be problems between states, but there should always be open doors for political and diplomatic settlements.
He also said: "A solution that won't harm our two nations should be found."
Tensions between Russia and Turkey flared up in late November, when a Turkish F-16 jet shot down a Russian Su-24 bomber over Syria, and one Russian pilot was killed.
Turkey says the plane violated its airspace for 17 seconds and ignored multiple warnings, while Moscow maintains the aircraft didn't cross into Turkey and was downed over Syria.
Russian President Vladimir Putin called the move "a stab in the back," and the Turkish authorities refused to apologize.
Following the incident, Russia introduced sanctions against Turkey, including: banning agricultural trade with Ankara, returning to the visa regime between the two countries, and halting the majority of bilateral projects.
Russian Foreign Minister Sergey Lavrov has said that Moscow's "stance on the step that was taken by the Turkish government in no way applies to the Turkish people."
"We will always have warm and friendly feelings towards the Turkish people," Lavrov added. "They aren't responsible for what happened with Su-24; it's a decision that was made by the country's leadership," Russia's foreign minister concluded.
You can share this story on social media: