Godmother: 38yo 'granny mafia boss' arrested in Italy over fish scam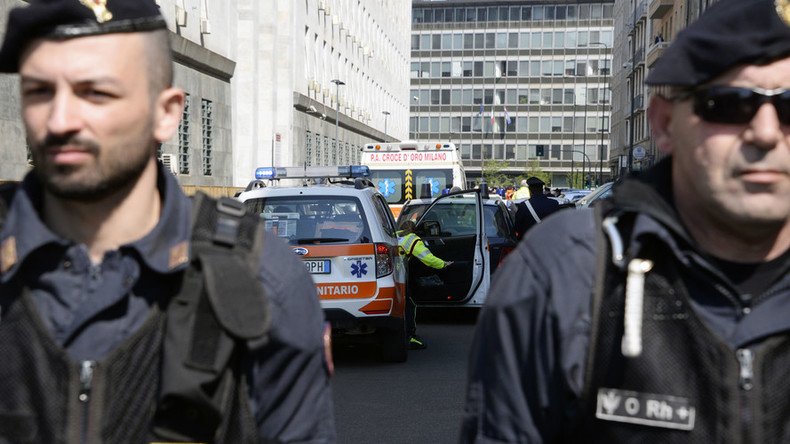 Italian police have detained the woman who might be at the helm of Sicily's most influential mafia clan. At 38, Teresa Marino is not only a suspected mafia leader, but also a mother of five and grandmother, which brings the debate on gender equality in organized crime to a whole new level.
Marino allegedly heads the powerful Porta Nuova faction of Cosa Nostra in Palermo, while her husband, Tommaso Lo Presti, the clan's leader, is serving time in jail, according to La Repubblica. She was detained on Wednesday with 37 others at locations across Italy: in Palermo, Rome, Naples and Milan. They were accused of extortion, drug trafficking, arms trading, and fraud in the bidding for public works contracts.
Lo Presti was arrested last year, along with other 18 mafia bosses, in a special operation by Italian security forces.
After her husband's arrest, Marino took over the day-to-day running of the crime clan, including over financial matters, prosecutors believe. In particular, she decreased the payments made to the wives of other imprisoned Mafiosi.
She also reportedly gave the spouses advice on how to give evidence in court and how to act if put on trial.
"She would tell them not to cry in the courtroom, telling them, 'Show them you're proud Mafiosi, you must only show your pain at home,'" Giuseppe De Riggi, a police colonel connected to the investigation, was quoted by The Telegraph as saying.
Marino was also involved in laundering the Mafia's drug profits: one of the new ways she allegedly found was illegal trade in fish products, The Local reported.
She has also been accused of managing shipments of cocaine from South America.
Police concluded that the events demonstrate how mafia "can restructure itself" when needed.
READ MORE: Mafia responsible for 20% drop in GDP in southern Italy - study
"The role she assumed as head of the clan shows that times have changed – these days there is equality of the sexes, even within Cosa Nostra," said Leonardo Agueci, a prosecutor in Palermo.
"But this is certainly not the first case of its kind," he added.
You can share this story on social media: