'Godfather' theme for 'King of Rome': What happens when you cover lavish funeral of 'mafia boss'?
It was a lavish funeral complete with a horse drawn carriage, a helicopter, and hundreds of tearful mourners. But when Italian journalists tried to cover the ceremony honoring alleged mafia boss Vittorio Casamonica, they were met with death threats.
Casamonica's funeral was quite the spectacle, with flower petals tossed in the air and the theme from 'The Godfather' playing outside the church.

A banner on the entrance of the church read: "You conquered Rome, now you'll conquer paradise." Another referred to Casamonica as the "King of Rome."

Hundreds of people turned up to pay their last respects to Casamonica – a well-known alleged mob boss who, according to Rome's City Hall, had been the subject of "many investigations into Roman criminality."

It was an event that naturally sparked the interest of journalists. However, when a reporter named Alessio Viscardi turned up at the airfield in Terzigno where the helicopter had taken off, he was confronted and threatened by four men.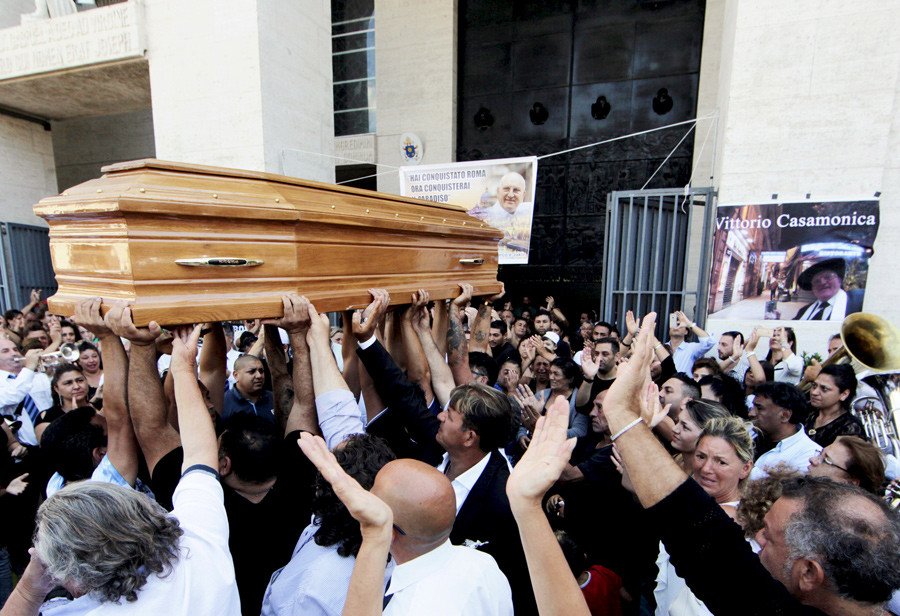 "I was searching the airfield where the helicopter that flew over Casamonica's funeral [took off]...I started recording a video. While I was there...four men had surrounded me and said 'We'll kill you,' and 'Stop shooting.'"

He added that the men took his "personal documents" to determine where he lived before letting him go.

The mayor of the nearby city of Naples, Luigi de Magistris, voiced his support for Viscardi, saying: "We can't accept that a journalist is threatened with death."

But Viscardi isn't the only journalist who says he was threatened while attempting to report on the funeral.

Journalists from public TV station Rai 3 say they were threatened and attacked by local residents while filming in Rome's Appio area, where several members of the Casamonica family live.

"They said to us they were going to beat us to death, more than once, and from more than one person," Alfonso Iuliano said, as quoted by the Guardian.

The cameraman was left with a few scratches on his arm following the altercation, and two people related to Casamonica's family were arrested and charged with robbery after reportedly taking the journalists' phones.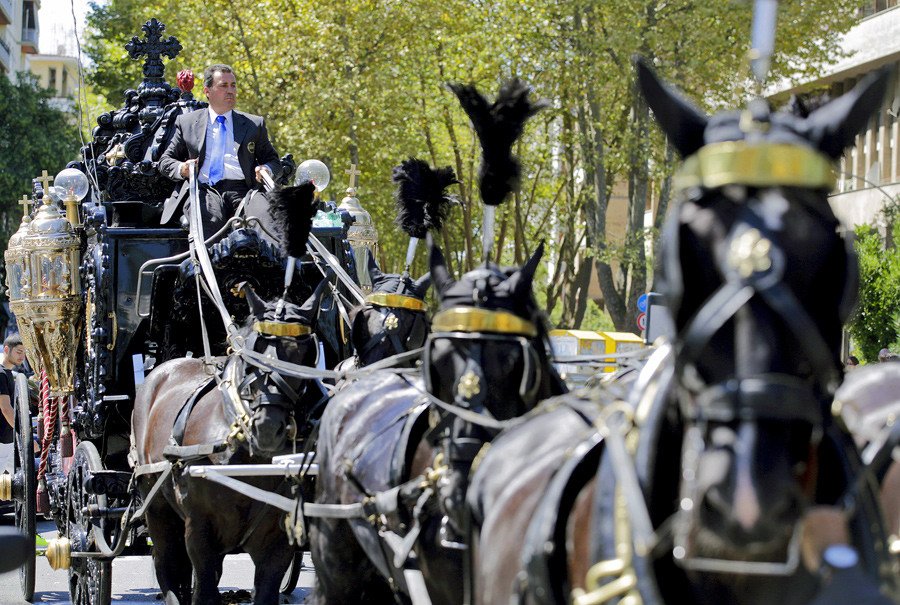 Rome's deputy mayor, Marco Causi, and transport councilor, Stefano Esposito, expressed concern for the Rai 3 journalists after the incident, saying that media freedom was protected under Italy's constitution.

However, he added that "this action confirms that the Casamonica family and mafia criminals and their associates believe they are bosses of their area."

Although prosecutors have never described the Casamonicas as a "mafia" family in the classic sense, they are said to be the richest and most dangerous gangsters in Rome, with a fortune totaling more than 90 million euros (US$102 million), much of which was obtained through loansharking. On the day of the funeral, Police said in a statement that Vittorio Casamonica was "on the margins" of organized crime, but did not seem to be involved in any recent mafia investigations.

Members of the Casamonica family have denied they are involved in organized crime, and lashed out at the media for portraying them as mobsters.

"If we were mafiosi, how difficult would it have been to go and get the people who disrespected Uncle Vittorio?" Italian gossip magazine Oggi quoted Tony Casamonica, a nephew, as saying. "The real mafia would have already put them in cement."
'Alarming' show of mafia power
Casamonica's lavish funeral prompted criticism from Italian politicians, with Rosy Bindi, president of the parliamentary anti-mafia commission, saying it was "alarming" that the funeral had been "transformed into an ostentatious show of mafia power."

That sentiment was echoed by hard-left SEL politicians Arturo Scotto and Celeste Costantino, who called on the country's interior minister to explain how such a funeral could take place.

"These funerals might seem like a folkloric custom, but in reality they send a clear message of impunity on the part of the clans: we still exist and we are powerful," the politicians wrote in a statement. "That is unacceptable in a democratic state."

Rome's Mayor, Ignazio Marino, also demanded an explanation, saying it is "intolerable that funerals are used by the living to send mafia messages."

The president of the ruling Democratic party, Matteo Orfini, vowed that such a performance would "never again" happen in Rome, saying the city "cannot be defaced by those who want it to become the set of the Godfather."

Others expressed concern and surprise that Casamonica's funeral was allowed to take place at a Catholic Church.

Over the weekend, the Vatican newspaper quoted several prelates criticizing the lavishness, under the headline "The scandal of a funeral."

Meanwhile, Reverend Giancarlo Manieri, the parish priest, said the funeral had been celebrated normally inside the church, adding that he had no control over what happened outside the church, Ansa news agency reported.

A separate, smaller memorial was held on Wednesday. Police stood guard, forming human chains to keep the peace, though there were some scuffles between the Casamonica family and journalists.
You can share this story on social media: