Banksy graffiti of Steve Jobs in Calais 'Jungle' migrant camp to be protected – authorities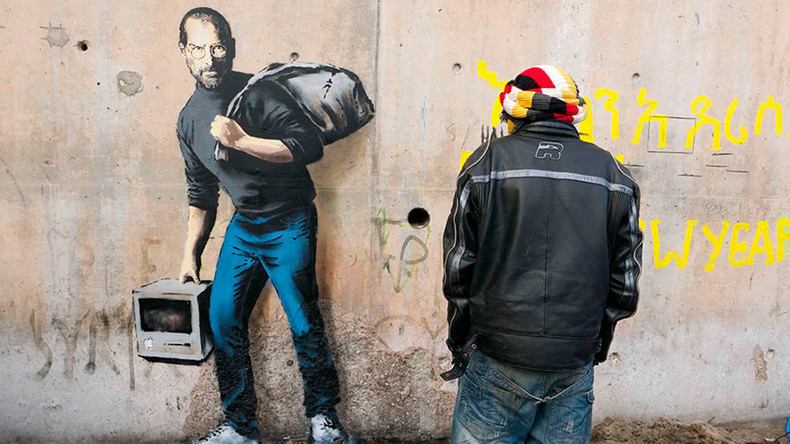 French authorities have promised to protect and preserve the work of renowned street artist Banksy that appeared earlier this week in Calais' 'Jungle', an encampment where migrants live while they attempt to enter the UK.
The city authorities plan to install shield glass or transparent plastic panels to protect the life-size graffiti of the late Apple founder Steve Jobs which appeared on one of the concrete open-air pillars of the bridge inside the migrant camp – as well as two of Banksy's other murals in the port city.
READ MORE: Banksy's 'Steve Jobs the Son of Syrian Migrant' pops up in Calais camp
"We found out about the presence of this artwork on Friday and have decided to protect it, so it is not damaged," a Calais city spokeswoman said.
A second Banksy mural by the Calais beach will also be protected. The composition shows a child looking towards the UK through a telescope, with a vulture perched on the telescope.
The third work of the anonymous British graffiti artist, found next to the immigration office, reproduces a black-and-white version of "The Raft of the Medusa" by the French painter Theodore Gericault. It shows survivors on a raft desperately waving to catch the attention of a yacht on the horizon.
In a rare public statement, after the creation of the Jobs graffiti , Banksy issued a message of hope saying: "We're often led to believe migration is a drain on the country's resources but Steve Jobs was the son of a Syrian migrant. Apple is the world's most profitable company, it pays over $7bn (£4.6bn) a year in taxes – and it only exists because they allowed in a young man from Homs."
The message is clear, those who want to ban refugees from entering their country could be depriving the world of the next Steve Jobs.
Commenting on the latest Banksy's creation, the city's mayor said that the mural depicts a clear message of hope.
"It is very good, and it has a message," Calais mayor Natacha Bouchart told local newspaper Nord Littoral.