Armed to the teeth: Amnesty slams US & allies for weapons falling into ISIS' hands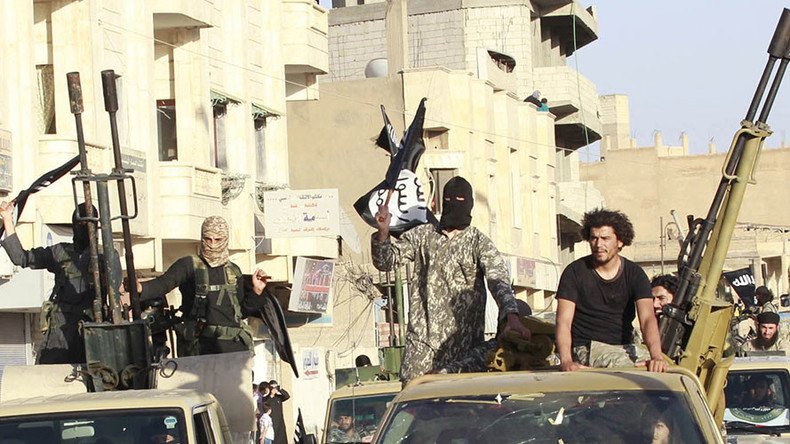 Islamic State's campaign of terror in Iraq and Syria is being aided by the weapons indirectly supplied by the very countries trying to fight them, with the US-led invasion of Iraq in 2003 giving the terrorist group access to "a large and lethal arsenal."
The claims were made in a study by Amnesty International, entitled 'Taking Stock: The arming of Islamic State,' which was released on Tuesday. Islamic State (IS, formerly ISIS/ISIL) acquired most of its munitions by raiding weapons depots of the Iraqi government army. However, the capture of weapons on the battlefield, defections and an illicit trade have helped to keep their supplies well-stocked.
The report states how, after capturing Iraq's second largest city Mosul in 2014, IS terrorists were able to acquire "a windfall of internationally manufactured arms from Iraqi stockpiles, including US-manufactured weapons and military vehicles." The terrorist group was quick to show off the captured loot as they paraded the hardware on social media.
"Decades of free-flowing arms into Iraq meant that when IS took control of these areas, they were like children in a sweetshop. The fact that countries including the UK have ended up inadvertently arming IS should give us pause over current weapons deals," said Amnesty UK's arms program director, Oliver Sprague.
"Risks need to be far more carefully calculated, and we shouldn't wait for this worst case scenario to happen before acting to prevent sales of arms which could fuel atrocities."
Among the advanced weaponry in the IS arsenal are man-portable air defense systems (MANPADS), guided anti-tank missiles and armored fighting vehicles, as well as assault rifles like the Russian and Chinese-produced Kalashnikov series and the US M16 and Bushmaster, the report states.
"The vast and varied weaponry being used by the armed group calling itself Islamic State is a textbook case of how reckless arms trading fuels atrocities on a massive scale," said Patrick Wilcken, researcher on Arms Control, Security Trade and Human Rights at Amnesty International.
"Poor regulation and lack of oversight of the immense arms flows into Iraq going back decades have given IS and other armed groups a bonanza of unprecedented access to firepower," he added.
However, it seems Washington is refusing to learn from its past mistakes. Between 2011 and 2013, the US signed billions of dollars' worth of arms contracts with the Iraqi government, and by 2014 it had delivered more than $500 million worth of small arms and ammunition.
Congress also passed a bill in December 2014 giving the green light to $64 billion in funding for overseas war ventures in countries such as Afghanistan, Iraq, and Syria. However, the White House was left with its tail between its legs after a $500 million program to train 'moderate' rebels ended in abject failure, with just a handful of fighters making the grade.
Even more disastrous was the fact that a stockpile of weapons given to the US-trained rebels ended up in the hands of terrorists, after the so-called 'moderates' willingly handed it over to groups such as Al-Nusra Front soon after crossing into Syria.
"My concern from the beginning was that we were going to end up unwittingly aiding and abetting terrorist groups like Al-Qaeda," Chris Murphy, a Democrat from Connecticut, told Sputnik news agency in October, adding: "I am sorry that my concern turned out to be true."
Sunjeev Bery, the advocacy director for Middle East North Africa at Amnesty International USA was equally scathing, saying, "In its rush to 'degrade and destroy' the Islamic State armed group, the Obama administration must not trample its international human rights obligations," while also adding that this was "simply opening the floodgates" to put more weapons into the hands of armed groups who have "committed serious human rights abuses in both Iraq and Syria."
You can share this story on social media: