'Too dumb': Ex-US intelligence chief blames Iraq War, poor strategy for rise of ISIS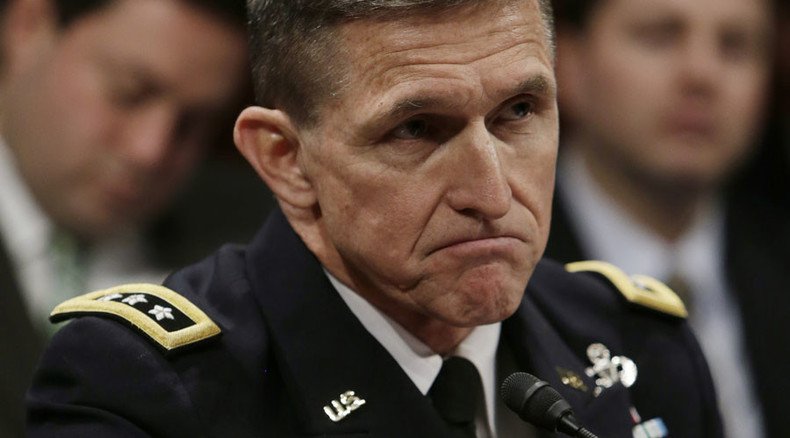 The former commander of US Special Forces in Afghanistan and Iraq said that without the Iraq war, the Islamic State wouldn't exist today, according to the German newspaper Der Spiegel. He also blamed a poor emotional response to the 9/11 attacks.
"First we went to Afghanistan, where Al-Qaeda was based, then we went to Iraq," Flynn told the newspaper in an interview. "Instead of asking ourselves why the phenomenon of terror occurred, we were looking for locations. This is a major lesson we must learn in order not to make the same mistakes again."
General Flynn, who served in the US Army for more than 30 years, was stationed in Afghanistan and Iraq from 2004 to 2007. He said he regretted his role in the Iraq war and said the terrorist attacks on 9/11 led the US to create disastrous military polices. The US invaded Iraq after administration officials – including President George W. Bush, Vice President Dick Cheney, and Secretary of State Colin Powell – presented false intelligence about Saddam Hussein's weapons of mass destruction program and alleged links to Al-Qaeda.
He also highlighted the consequences of toppling Middle Eastern dictators – a strategy that continued with President Barack Obama's intervention in Libya.
"It was huge error," he continued. "As brutal as Saddam Hussein was, it was a mistake to just eliminate him. The same is true for Muammar Gaddafi and for Libya, which is now a failed state. The historic lesson is that it was a strategic failure to go into Iraq. History will not be and should not be kind with that decision."
Flynn said the US had Abu Bakr al-Baghdadi, the alleged head of the Islamic State (IS, formerly ISIS/ISIL), in the Camp Bucca detention center in February 2004 in Iraq, but he was cleared as harmless by a US military commission and released in December 2004.
"We were too dumb. We didn't understand who we had there at that moment. When 9/11 occurred, all the emotions took over, and our response was, 'Where did those bastards come from? Let's go kill them. Let's go get them,'" said Flynn. "Instead of asking why they attacked us, we asked where they came from. Then we strategically marched in the wrong direction."
Before his retirement, Flynn served as director of the Defense Intelligence Agency and as an assistant director of national intelligence inside the Obama administration. He added that the shift to international operations – such as attacks in Paris, Lebanon, Mali, and the attack on a Russian airliner in Egypt – show that Islamic State has a developed structure in place.
"There were all kinds of strategic and tactical warnings and lots of reporting. And even the guys in the Islamic State said they were going to attack overseas. I just don't think people took them seriously," Flynn told Spiegel. "…The change that I think we need to be more aware of is that, in Europe, there is a leadership structure. And there's likely a leader or a leadership structure in each country in Europe. The same is probably similar for the United States, but just not obvious yet."
READ MORE: US ex-intelligence chief on ISIS rise: It was 'a willful Washington decision'
Flynn said that in Osama Bin Laden's writings, the Al-Qaeda leader described how the terror group was becoming more dispersed, more diffuse, and operating in smaller units.
Flynn said the difference between Al-Qaeda and IS is the number of fighters they command, where they come from, and how they are attracting fighters. Al-Qaeda at its peak was recruiting about 150 fighters a month from a dozen countries, whereas IS is bringing in 1,500 fighters from 100 nations, and using digital communication "to strengthen the attraction of their ideology."
Flynn thinks airstrikes alone won't succeed and troops on the ground are inevitable. The overall strategy should be to take away IS territory by hunting down its leaders, blocking their financial operations, and creating a cooperative plan with stakeholders like Russia and the United Nations. He said it would take years to do so, but once security and stability is brought to the area, it will be possible to bring back the refugees.
You can share this story on social media: