Refugees once grateful just to be in Germany, now want to choose where to live – interior minister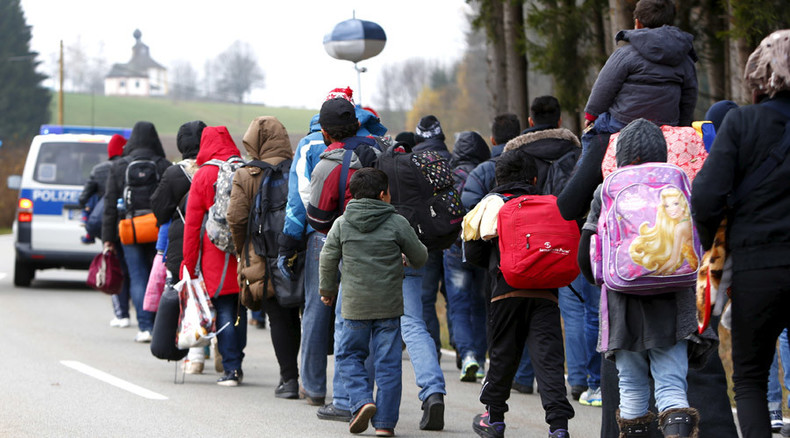 Refugees, once grateful for the very fact they had arrived in Germany, have recently become picky, wanting to choose where exactly in the country they'd like to live, Interior Minister Thomas de Maiziere says.
De Maiziere suggests there should be strict quotas, with only the most vulnerable refugees allowed in Germany after they're filled - a position that contradicts Chancellor Angela Merkel's recent vow to continue pursuing an open-door policy toward
Distribution of refugees "in the past was not really a problem because the refugees were initially grateful to be in Germany, and were happy to distribute," De Maiziere told Austria's Der Standard newspaper. He added that now a significant number of refugees "want to assign themselves" in Germany.
Now the refugees should receive their arrival card only in those places where Germany assigned them, he said. There the asylum seekers will also get "financial services, and even asylum procedures." If a refugee doesn't go to the place of his distribution, he "will get neither."
"We need to clear up faster who should leave and who should stay. We must also... increase the number of deportations or voluntary returns," De Maiziere said.
READ MORE: Stasi sanctuary? East Germany's former secret service HQ to house up to 900 refugees
The number of refugees taken in by the EU was another question raised by the German interior minister. He suggested that Europe should set a specific limit on the number of asylum seekers it takes in.
"When the quota is filled, there are no further entries in the year," he said. "Those in real need of help - from Syria, from Iraq - will be jointly selected."
This may help European Union members to overcome their reluctance to take in refugees, as many say 'no' to asylum seekers because "they cannot be sure that those coming are entitled to protection" and because "they fear that a number without an upper limit is coming."
READ MORE: Germany launches campaign to discourage Afghan refugees from heading to Europe
"But if we limit the number and distribute those entitled to protection, then I no longer see it being as difficult as it has been discussed up until now."
De Maiziere recalled that when he served his previous term as interior minister from 2009 to 2011, Germany had nearly 40,000 asylum seekers per year.
Now, the numbers have risen rapidly. According to German Federal Police, over 950,000 asylum seekers arrived in Germany this year, Die Welt newspaper reported. Only in November at least 192,827 arrived in the country, estimates from November 24 say. These numbers only include registered refugees. If the unregistered ones are taken into account, the numbers may be even higher.
The idea that Europe can't take more refugees was previously voiced by French Prime Minister Manuel Valls on Wednesday who called for the cessation of Europe's migrant influx.
READ MORE: EU can't take any more refugees – French PM

Europe is experiencing the largest influx of refugees since World War II. The majority of them come from the Middle East and North Africa – two regions that suffer from violence and political instability in the wake of a series of western-backed public uprisings in countries like Libya and Syria that allowed for extremist groups to rise to power.