Germany launches campaign to discourage Afghan refugees from heading to Europe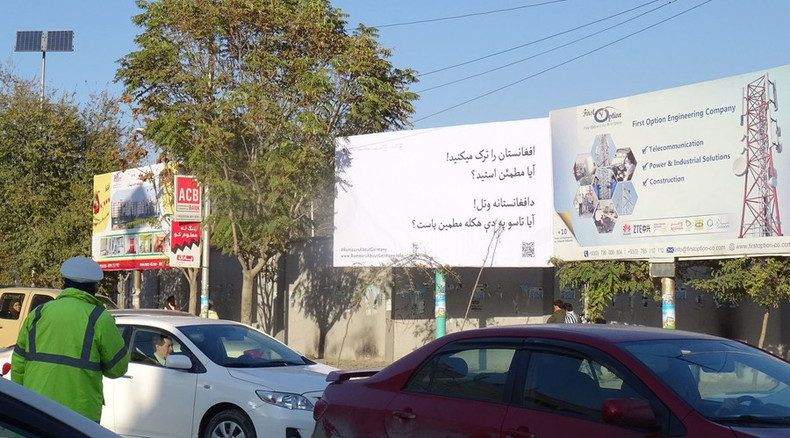 Germany has launched a campaign in Afghanistan to discourage people from trying to enter Europe illegally. Other European governments have made similar moves this year amid the refugee crisis.
The German campaign launched on Sunday started with several billboards in Kabul. "You are leaving Afghanistan: Are you certain?" they say in Dari and Pashto, the two main languages in Afghanistan.
The billboards also have links to a Facebook account called "Germany in Afghanistan" run by the embassy in Kabul and a #RumoursAboutGermany hashtag.
READ MORE: 'New Jungle' grows: Shocking images show migrant camp in French port city, mayor calls on army
"Do not believe the rumors and false information deliberately spread by human traffickers about the allegedly easy trip and the easy life in Germany," reads one the latest posts. "Do not risk your lives by trying to flee to Europe. Human traffickers are criminals who are only interested in money. They don't tell the truth and don't care about human lives."
The campaign is meant to disavow the expectations of welcome payments, residency permits and government-provided jobs prevailing among would-be asylum seekers. It also stresses the risks of traveling to Europe with the help of traffickers, a journey that ends fatally for too many refugees.
According to UN numbers published in late October, 3,440 people have died or gone missing trying to cross the Mediterranean to Europe in 2015. The Greek Island of Lesbos, which has become the gateway for the inflow of asylum seekers, warned that it was running out of burial space for the victims.
Germany follows in the footsteps of Hungary and Denmark, both of which paid for ads in Lebanese newspapers to discourage people from going to Europe. Lebanon is sheltering over 1 million refugees from Syria.
Europe is experiencing the largest influx of refugees since the Balkan wars this year. The majority of them come from the Middle East and North Africa, two regions that suffer from violence and political instability in the wake of a series of west-supported public uprisings in countries like Libya and Syria that led to the rise of extremist groups to power.
The German government expects nearly 400,000 asylum applications by the end of the year, more than double the number in 2014. The rich northern-European country, which chose to publicly welcome the refugees - unlike some other EU members - is one of the most-popular destinations.
READ MORE: Fleeing from Syria to Germany: Mohammed's story
The pro-refugees policy of Chancellor Angela Merkel amid the crisis led to increased tensions in Germany, where anti-immigrant right-wing groups like Pegida are gaining influence and a resistance is growing even in her own Christian Democratic Union party.
LISTEN MORE:
You can share this story on social media: