New video of Paris attacks shows moment Europe's 1st female suicide bomber blew herself up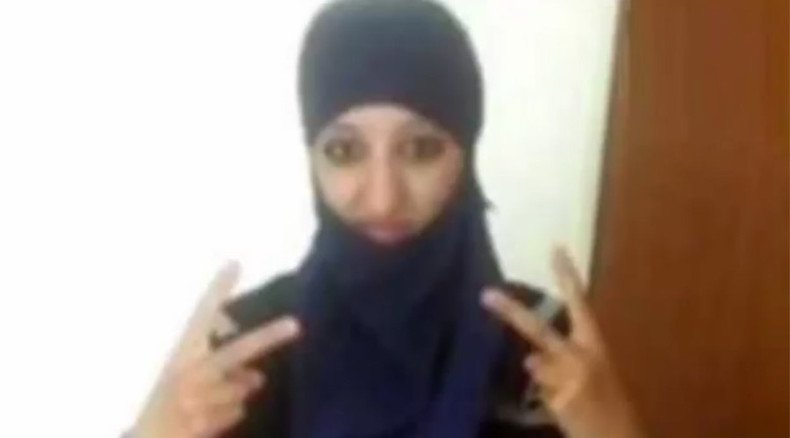 French police continued to negotiate with Hasna Aitboulahcen, the peroxide-blonde 26-year-old would-be jihadist, until she detonated herself with a force so powerful it blew her head off and into the street, an amateur recording and a police account revealed.
READ MORE: New Paris attack footage shows restaurant spattered with bullets, woman's lucky escape
As scores of France's RAID special police unit surrounded the house in the Paris suburb of Saint-Denis at dawn on Wednesday, Aitboulahcen was alongside her cousin Abdelhamid Abaaoud, the suspected mastermind behind last Friday's Paris attacks, which killed more than 130 people.
Eyewitnesses said Aitboulahcen appeared at the window, shouting "Help me! Help me!" during the gun battle with the jihadists, in which the police expended an estimated 5,000 rounds.

It was unclear whether this cry was a trap or a genuine plea for help. When police told the woman to stay still, she quickly disappeared inside the flat.

Minutes later, she reappeared for the final exchange.
In an amateur video from the scene, verified by French police, an officer is heard yelling, "Where is your boyfriend?" presumably referring to Abaaoud.

To this, the woman angrily cries, "He's not my boyfriend!" The officer then repeats: "Where is he?" to which Aitboulahcen shouts again, "He is not my boyfriend!" An explosion and a barrage of gunshots follow.
"After a long firefight, we heard a loud explosion. The windows of an apartment were shattered, blown from inside to outside," Jean-Michel Fauvergue, who led the RAID unit, told journalists.

"That's when we saw a human body, a woman's head, fly through the window and land on the pavement, on the other side of the street. A suicide bomber had just exploded. The blast was so devastating that a supporting wall moved."

No one else appeared to have been hurt by the blast. Police said it was not possible to immediately identify the French citizen, whose family originates from Morocco, without a DNA test.
The seven-hour siege, which had been broadcast in real time across the world, was over in two hours after the incident, with Abaaoud killed – riddled with bullets and torn apart by grenades – and eight of his suspected accomplices arrested.

It is likely that Hasna inadvertently led the police to the terrorists' doorstep, as intelligence services reportedly intercepted her online chatter prior to the siege.
READ MORE: Run, hide, don't play dead: New terror survival guide published
Since early this year, Aitboulahcen had been placed on "triple surveillance" by the French authorities for drug crimes and terrorist links. Police say she attempted to join Islamic State in Syria, but failed to do so and "offered her services to commit terrorist attacks in France."

Investigators will now be looking to identify what prompted Aitboulahcen down the path of what has been described as Western Europe's first suicide bomber.

With more details emerging, her background does not appear to fit the stereotype of a devout radical, but closely resembles that of the other Paris attackers.
Aitboulahcen was brought up in relative stability by a foster family, attended university – where she was noted for making jihadist pronouncements – and headed a building company, which went bankrupt.
"From the age of five she was taken into care, so she grew up with a foster family. She was happy and she flourished at that point in her adolescence. Then as she grew up she went off the rails. She became reckless, running away and choosing bad company," her brother Youssouf Aitboulahcen said in a statement.

But even as she posted jihadist memes and posed photos on her social media profile, her interest in religion did not appear that deep.

"She spent her time criticizing everything. She was living in her own world. She was not interested in studying her religion. I never saw her open the Koran. She was permanently on her phone, looking at Facebook or WhatsApp," said Youssouf.

The turn from disaffection to radicalism appeared to have accelerated in the past weeks, when Hasna began wearing the niqab. She was suspected of assisting last Friday's deadly terror attacks in Paris. French investigation sources told Reuters that she and her accomplices were about to launch another attack – this time on Paris's La Defense financial district.
READ MORE: Bomb scare on Baker Street: Controlled explosion after police evacuate London tube station
You can share this story on social media: