New Paris attack footage shows restaurant spattered with bullets, woman's lucky escape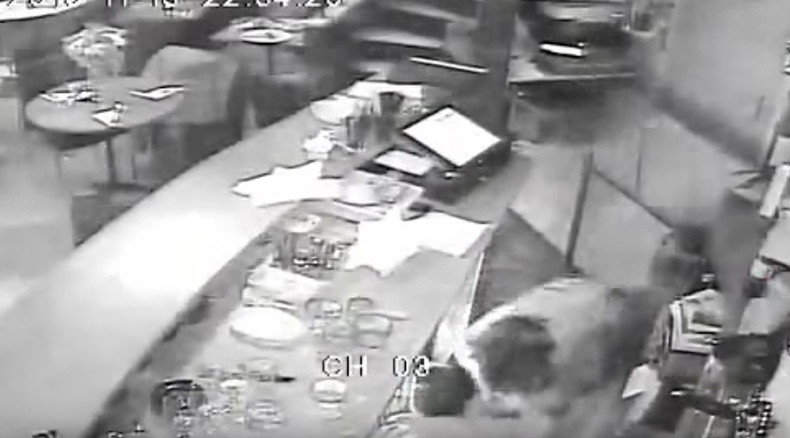 Newly released CCTV footage of the terrorist attack on one of the restaurants in Paris has revealed the level of horror and devastation faced by the victims. One woman is seen miraculously escaping from immediately in front of the gunman's possibly jammed rifle.
The video, released by the Daily Mail, shows a bombardment of bullets flying through the restaurant as people are seated on the patio as well as inside the building.
Customers and staff are seen jumping for cover and using restaurant furniture to shield themselves from bullets ricocheting everywhere.
At one point the assassin levels his rifle at point blank range at a young woman who is hiding under one of the patio tables. His gun seemingly malfunctions, giving the woman a chance to escape.
After the first wave of shooting, people are seen scrambling. Some run away from the restaurant, while others try to find safety upstairs or downstairs.
READ MORE: Getaway: How Paris attacker, now 'fleeing in Europe', evaded police 3 times after carnage
The footage also recorded an incredible act of bravery, as a 20-year-old waitress ducked under the bar and covered an older injured woman with her arms during the shooting.
One of the most chilling parts of the video shows the gunman walking outside the restaurant calmly shooting victims before getting back into his vehicle.
Miraculously, all of the people and staff inside the restaurant were able to survive the attack, which lasted less than a minute.
READ MORE: Paris shootout: 2 dead, incl. female suicide bomber, 7 arrested as police, army hunt suspects
The coordinated Paris terror attacks on Friday killed at least 132 people and wounded hundreds more. French authorities have launched dozens of anti-terrorist raids across the country, which have resulted in dozens of arrests and the seizure of weapons caches.