Getaway: How Paris attacker, now 'fleeing in Europe', evaded police 3 times after carnage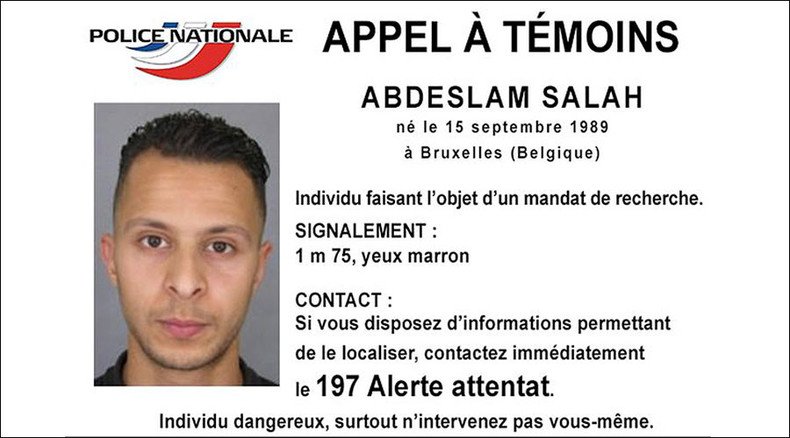 Terror suspect Salah Abdeslam, best friend of the Paris attack 'mastermind' and brother of one of the suicide bombers, was stopped, and let go, 3 times after assisting the jihadists in his latest known lucky escape. He is now believed to be on the run in Europe.
The most recent alert issued by French authorities says Abdeslam could be fleeing through Europe in a Citroen Xsara, registration number AE-113-SY, with an earlier warning saying that he is potentially dangerous and should not be approached. Police forces across the continent have been asked to look for the vehicle, according to the Independent.
Abdeslam casually fled the scene of the Paris massacre by asking two friends from a Brussels suburb to pick him up because his car had "broke down," media reports say, citing testimonies of Hamza Attou, 21, and Mohammed Amri, 27.
Latest reports, such as those cited by the Daily Mail, suggest that the three were stopped not just once – on the Belgian border – but as many as three times. The trio never aroused any suspicion from police in the end.
READ MORE: International manhunt underway for suspect involved in Paris attacks
It is now speculated that the suspect's black car, which was found abandoned about a mile from the carnage at the Bataclan theater, could have been involved in another attack plan aborted at the last moment.
As the details began to emerge, however, not only Abdeslam's seemingly seamless escape, but his whole life appears to be a puzzle, without many clues to his possible radical Islamist background.
Like more than a third of the 100,000 inhabitants of Brussels' Molenbeek district, 26-year-old Abdeslam comes from an immigrant family. Brussel's own mayor has described the district as a "breeding ground for radical violence" with high youth unemployment and crime level.
In 2010, while a trainee state rail mechanic, he was jailed for armed robbery. His accomplice at the time was Abdelhamid Abaaoud, a childhood friend who was two years older – and the man now suspected of being the "mastermind" of the attack in Paris last Friday that killed at least 132 people.
Abaaoud, who gained notoriety as one of Islamic State's (IS, formerly ISIS/ISIL) highest-profile executioners in Syria, is known as Abou Omar el-Belgiki (the Belgian). Within the past two years, he recruited his 13-year-old brother to the jihadist cause, organized a terrorist cell in the sleepy Belgian town of Verviers that subsequently perished in a shootout, and was sentenced to 20 years in jail, in absentia.
READ MORE: Mastermind behind Paris attacks identified as active ISIS executioner from Belgium – reports
Abdeslam, however, appears to have never done anything to arouse suspicions – at least according to those who lived alongside him.
In an interview with Reuters, one friend Nabil claimed Salah Abdeslam and his brother Ibrahim - one of the terrorists who gunned down concert goers at the Bataclan before blowing himself up with a suicide belt - were "regular guys who enjoyed a laugh," while another, Hicham, said that the brothers played cards and talked about football, but "never Islam or anything jihadist."
"He was a really nice guy," neighbor Sheraz Sheik told journalists about Salah Abdeslam. "He was really well dressed, wearing designer clothes, no beard. A really smart guy, he'd gone to school and was really intelligent."
Whether it was a skillful cover or a legitimate business venture, the brothers opened a bar in their hometown two years ago, called the Cafe Des Beguines – named after a Christian monastic order – which served alcohol, a substance Ibrahim Abdeslam at least would openly consume, in contravention to Islamic proscriptions.
READ MORE: Dozens of arrests in French anti-terror raids after Paris massacre
This year authorities served the bar with a notice saying they would shut down Café Des Beguines in August because "the premises have been used for the consumption of banned hallucinogenic substances," and alleging the dive bar was being used as a place to score drugs.
Yet despite the severity of the accusations, the Abdeslam brothers were never even brought in for questioning and sold the establishment to another owner in late September.
Moreover, as it emerged in a Tuesday Guardian report citing Belgian security sources, Salah Abdeslam was on a countrywide list of about 800 suspected radicals – though the authorities appear never to have interrogated him.
From Austrian 'holiday' to Parisian carnage
Also in September, Salah traveled to Austria for what he said was a "holiday," according to the Austrian Interior Ministry. Investigators are now attempting to determine exactly how he spent his time and who he may have met while there.
In the days prior to the attack, the two brothers were openly renting two properties on the outskirts of Paris. Footage captured inside shows that they were used as labs where the future terrorists prepared their suicide belts and possibly injected drugs, all without suspicion of the staff, who have described them as "presentable" and "polite" in media interviews.
Salah Abdeslam's role in the attacks themselves is still unclear, though it is thought that he drove his brother to the Bataclan in a VW Polo and possibly participated in one of the sidewalk shootings.
Afterwards, Salah's friends Attou and Amri drove 180 miles (290km) to Paris on Friday night to pick up their buddy at the same time as reports on the attacks filled every TV screen.
Since then, investigators say they found ammonium nitrate fertilizer in Attou and Amri's house, which they insist is not a bomb-making ingredient.
Meanwhile, Abdeslam, who has been branded 'wanted and dangerous', remains at large – possibly still in the Belgian capital – despite a manhunt involving tens of thousands of officers throughout the continent.
"There's communication that indicates that the person is in Belgium and would continue the plan," a highly-placed investigator told Politico.
You can share this story on social media: