'Hand cream' terror attack on plane prevented ahead of Sochi Olympics – Russian official
A terror attack on a plane was thwarted ahead of the Sochi Winter Olympic Games in 2014, Oleg Syromolotov, Russia's deputy foreign minister said, adding that cooperation between international security agencies had averted the tragedy.
READ MORE: ISIS video threatens attack on Washington, warns countries taking part in Syria airstrikes
According to Syromolotov, who is responsible for counter-terrorism in the ministry, the suspected attackers were detained in Austria and France "after a check in four countries by five international security agencies."
"The female suicide bombers, who were in France, had plans showing where they were supposed to put the explosives," he told the upper house of Russian parliament, the Federal Assembly, on Monday.
"Their explosives were in hand cream, while their microfuses were brought from Syria. So, the threat was real," the deputy FM said, as cited by TASS news agency.
He added that this was the reason all kinds of liquids, including hand creams, were prohibited from carry-on luggage during the Olympics.
READ MORE: Sochi puts security at top of its Olympic agenda
The official didn't mention the identity of the suspects or the location and time planned for the detention of the explosives.
Read more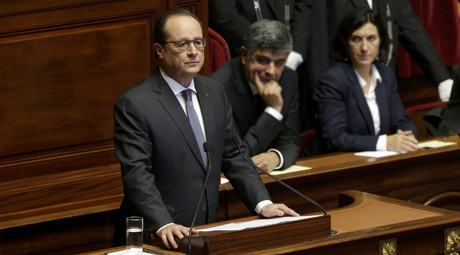 The safety of the Olympic Games, which was held in the Russian Black Sea resort of Sochi in February of last year, was achieved through international security cooperation, Syromolotov said.
"82 security agencies from 62 countries" participated in the forum organized by Russia ahead of the event and "they all worked for the security of the Sochi Games," he said.
The first ever Winter Olympics in Russia went on without incident despite threats from Islamist militants in the North Caucasus.
The revelation from Syromolotov came following last weekend's deadly Islamic State (IS, formerly ISIS/ISIL) attacks in Paris and amid an ongoing investigation into last month's Russian A321 jet crash over Egypt's Sinai Peninsula, which IS also claims to have orchestrated.

Russia, which is bombing IS and other terror groups in Syria, is currently urging the West to join forces with Moscow in the fight against the radical jihadists.
The deputy FM said that the US-led coalition, which claims to be fighting terrorism in Iraq, Syria, and Afghanistan, is "in fact, illegitimate in terms of international law."
"We propose a creation of a coalition under the auspices of the UN, with respect of the fundamental principles of this international organization," he stressed.
Earlier in the day, Vladimir Putin said that a united international effort is needed to deal with Islamic State.
"I think that now the realization that an effective fight [against terror] can only be staged together is coming to everybody," including the US, the Russian president said after G20 summit in Antalya, Turkey.