'France is at war': Hollande urges more security spending & stripping of citizenship after attacks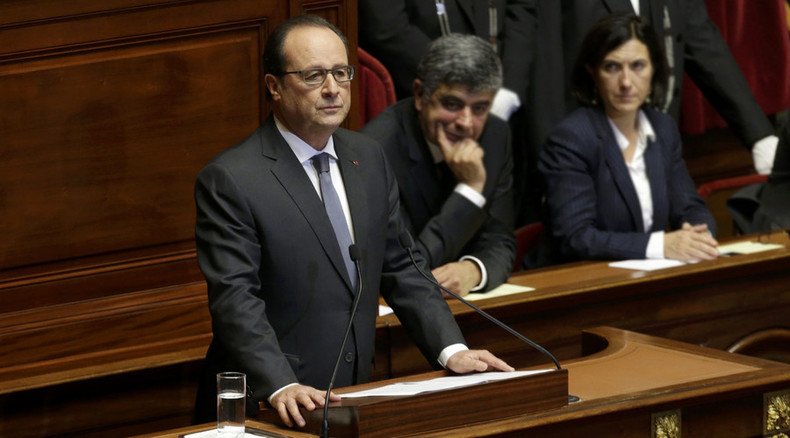 Stating that France is now "at war," President Francois Hollande urged for increased security spending and stripping dual citizens of their French nationality if they are deemed a terrorism risk. It comes just days after Paris attacks killed 129 people.
In a Monday address to both houses of parliament, Hollande said France will step up strikes in Syria, calling it "the biggest factory of terrorists the world has known."
"Our democracy has triumphed before over adversaries that were much more formidable than these cowards," Hollande said.
The French president demanded a rapid implementation of "co-ordinated and systematic controls" of the EU's internal and external borders, stressing that it will patrol its national borders if Europe does not comply. This would mean dismantling the European Union.
He stated that he was extending the current state of emergency by an additional three months, adding that the French constitution must be amended for crisis situations, allowing dual citizens to be stripped of their French citizenship and barred from the country if they are a terrorism risk.
The French president stated that 5,000 police jobs will be created in the next two years. He said there would be no job cuts in the military until 2019.
Hollande stressed that the security measures will increase spending, but stated that security is more important than EU budget rules.
The leader said he will meet with US and Russian leaders to discuss combining their efforts to destroy ISIS, and called on the United Nations Security Council to rapidly issue a resolution against terrorism.
The address marked the first time in more than six years that a French president addressed both houses of parliament, the Senate, and the National Assembly. This is a procedure reserved for constitutional revisions and major presidential speeches.
You can share this story on social media: