Monstrous wave of Paris attacks underlines France's year of terror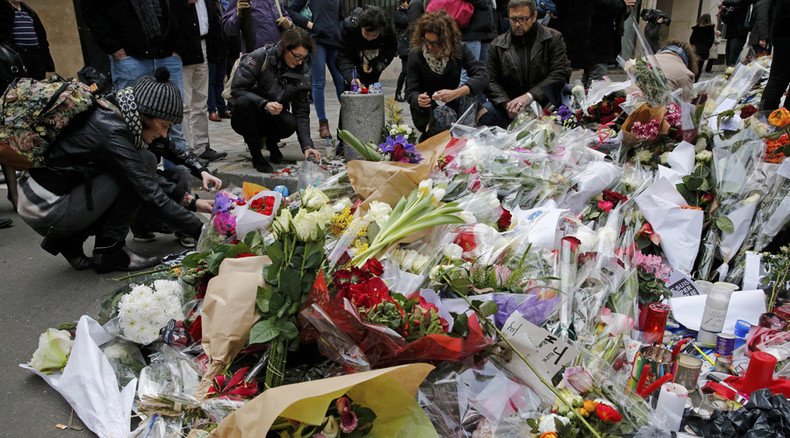 Waves of deadly attacks have held France in a constant state of stress, anger and grief over the past 12 months, as the country has faced a series of deadly assaults and terror acts by radicalized Islamists and jihadists.
READ MORE: Paris attacks: 150+ killed and many injured in a series of terrorist acts
It all started just before Christmas on December 20, 2014, in the largest suburb of the city of Tours, in Central France, when an attacker of Burundian origin, shouted "Allahu Akbar" [God is great] before attacking officers at a police station with a knife. The assailant, identified as Bertrand Nzohabonayo, injured three policemen before officers took him down.
The following day, on December 21, a man in the French city of Dijon run over 11 pedestrians in five areas of the city. The driver – who also shouted "Allahu Akbar" – was arrested. Authorities later stated that the attacker ploughed into passers-by because he suffered from severe psychiatric problems.
On the third day after the initial attack, a man in a white van rammed over ten pedestrians at a Christmas market in the French city of Nantes. The driver is said to have stabbed himself and officials said he appeared to be in an unstable metal condition. One civilian died in those attacks.
The spate of attacks forced the French government to heighten security by deploying 300 soldiers onto the country's streets.
READ MORE: Charlie Hebdo massacre aftermath
In early January, the French nation was in state of horror after a series of five terrorist attacks, which took place in and around Paris. The four attacks killed at least 20 people and wounded dozens more, before three of the assailants were killed by special forces. The fourth terrorist remains at large.
The intimidation of the French public began on January 7, after two gunmen, identified as Cherif and Said Kouachi, attacked the headquarters of the satirical newspaper Charlie Hebdo, over the publication's depiction of the Prophet Mohammed. Twelve people, including two police officers, were killed in the onslaught, while eleven others were injured. The suspects fled the scene.
Hours after the Charlie Hebdo attack, a third assailant, Amedy Coulibaly, shot a 32-year-old man who was out for a run in a park near Coulibaly's home. On January 8, the same attacker shot and killed a municipal police officer in a suburb of Paris. A street sweeper was also wounded in that attack.
The following day, on January 9, the Charlie Hebdo attackers, Cherif and Said Kouachi, attacked a signage production company in Dammartin-en-Goele, taking hostages on premises. At the same time, Coulibaly, entered a kosher supermarket at Porte de Vincennes killing four people and taking the rest of the people in the store hostage.
To neutralize the attackers, French special forces conducted simultaneous raids in Dammartin and at Porte de Vincennes, killing three terrorists. The fourth suspect, believed to be Coulibaly's wife is still on the run.
January's atrocities became the deadliest act of terrorism in France since the 1961,when a bomb on a Strasbourg–Paris train took the lives of 28 people.
Following Charlie Hebdo attacks, the French government announced the creation of 2,680 new positions in the French military and intelligence agencies. The €425 million ($457 million) program was unrolled with the sole purpose to monitor a population of approximately 3,000 people with any possible connections to terrorist groups abroad. Furthermore, the government deployed some 122,000 police, military and gendarmes to provide security across France.
READ MORE: French train gunman claims attempted robbery rather than 'terrorist intentions'
But terror in France did not stop there. On June 26, 2015 a French Muslim of North African descent, Yassine Salhi, decapitated his employer before driving his van into gas cylinders at a gas factory near Lyon. This caused an explosion and injured two other people. Prior to ramming his van in an effort to destroy the factory, Salhi placed his boss's decapitated head on a fence along with two Jihadist black flags. The suspect was arrested after being taken down by the firefighters that rushed to the scene.
That attack on the factory near Lyon coincided with a number of other Islamist terrorist attacks that have taken place in Tunisia and Kuwait.
Finally, before the monstrous wave of attacks on Friday, a Thalys train traveling from Amsterdam to Paris via Brussels was attacked by an assailant who opened fire in a carriage before being subdued by off duty US servicemen aboard the train. Four people were injured but luckily none fatally.
You can share this story on social media: