French train gunman claims attempted robbery rather than 'terrorist intentions'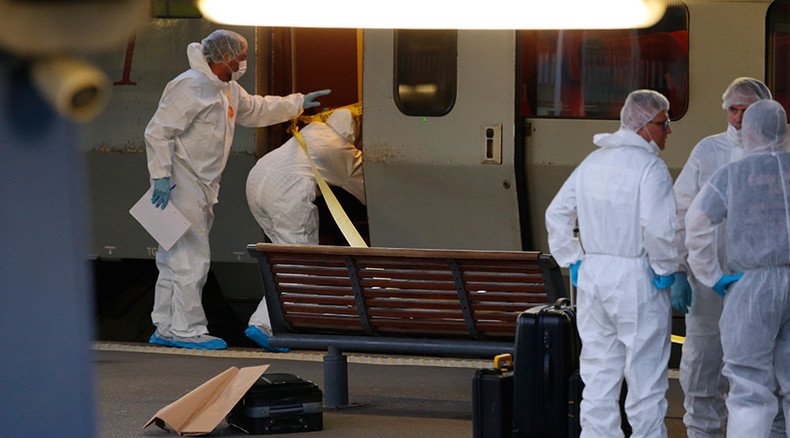 The heavily-armed man who was tackled by passengers aboard a high-speed train in France claims he was only trying to rob some "wealthy people" because he was hungry and by the "decree of providence" found a bag of weapons, according to his lawyer.
The gunman, who opened fire aboard a Thalys high-speed train between Amsterdam and Paris on Friday, was described as weak and malnourished by French lawyer Sophie David, who questioned him during the police interrogation in Arras after the attack.
"[I saw] somebody who was very sick, somebody very weakened physically, as if he suffered from malnutrition, very, very thin and very haggard," Sophie David told BFMTV.
The gunman – who was heavily armed with a Kalashnikov assault rifle, nine cartridge magazines to it, an automatic Luger pistol and a cutter – added that he was very "surprised" to find out that his case had received such a wide publicity.
"He is dumbfounded by the terrorist motives attributed to his action," she added, noting that the suspect looked "neither dangerous nor vindictive" as she spoke to him.
The attacker was identified through his fingerprints as Ayoub el Khazzani, who was known to French and Spanish intelligences over his alleged ties to a "radical Islamist movement," French media reported.
READ MORE: French high-speed train attacker 'connected with radical Islamists, visited Syria' - minister
However, according to the lawyer, the 26-year-old Moroccan consistently denies any terrorist intent and does not see any terrorist nature in his actions. The attacker claims he was planning only to ransom passengers as he was hungry.
The attacker claims to have found all the weapons and ammunition in a park near the Gare du Midi railway station in Brussels, where he usually slept because he was homeless. He said it was a "decree of providence."
"A few days later he decided to get on a train that some other homeless people told him would be full of wealthy people traveling from Amsterdam to Paris and he hoped to feed himself by armed robbery," David said, as quoted by Reuters.
According to the lawyer, the man also denied firing any shots before passengers charged to disarm the gunman. However, according to the French Interior Minister, Bernard Cazeneuve, the gunman had fired "several shots" before he was disarmed.
The potential massacre on the Thalys train, which was en route to Paris from Amsterdam, was prevented by three Americans, a Briton and a Frenchman who happened to be in the car and quickly reacted to the situation. Two people were injured before they managed to subdue the attacker. One of the injured, suffering a gunshot wound, still remains in hospital "in a serious but stable condition."
One of the Americans – a soldier who recently returned from Afghanistan – who helped subdue the attacker doubts the "robbery" story.
"It doesn't take eight magazines to rob a train," said Alek Skarlatos. "The guy had a lot of ammo. His intentions seemed pretty clear."
Two probes of the incident have been launched so far – one by the French anti-terrorism prosecutor and another one by the Belgian federal prosecutor with both investigations leaning towards the view that it was a terrorist attack, despite the gunman's claims.
According to preliminary results of the investigation, the suspect acquired his weapons and boarded the train in Belgium, where he lived, although he had documents issued in Spain, French Les Echos reports.
El Khazzani reportedly lived in Spain during his early adult life, first in Madrid and later in the country's southern port of Algeciras in Andalusia, where he drew the attention of the security services with his radical speeches legitimizing jihad.
He was also repeatedly detained for drug trafficking and was sent to prison at least once, where he might have been radicalized, according to Spanish media. A local community leader in Algeciras also told Reuters, El Khazzani lived in a poor neighborhood "plagued with… drug-related crime."
He also reportedly traveled to Syria via Turkey in 2014. However during his questioning the suspect denied any trip to Turkey or Syria, although admitted that he had "traveled to Spain, Andorra, Belgium, Germany and Austria," while also visiting France.
On Monday, in recognition of their bravery, French President Francois Hollande will present Americans and the Briton the country's top Legion d'Honneur medal. The Frenchman will receive the honor at a later date.
LISTEN MORE:
You can share this story on social media: