'Unprecedented terrorist attacks': French President declares state of emergency, closes borders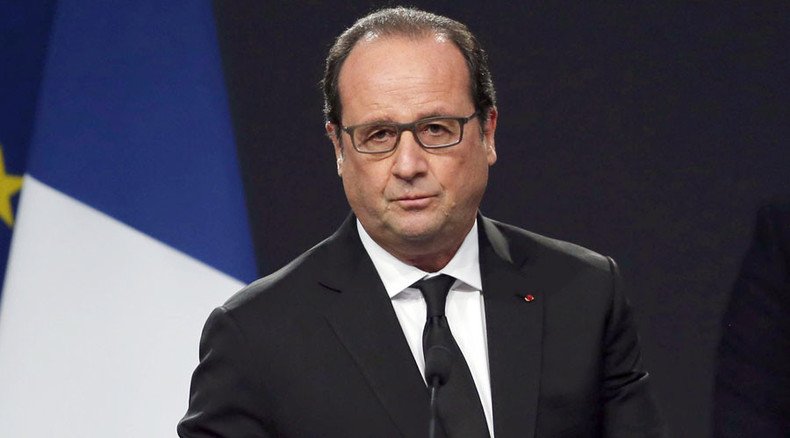 Amid the "unprecedented terrorist attacks" that have resulted in dozens of deaths, French President Francois Hollande has declared a state of emergency and announced that France will close its borders.
LIVE UPDATES: Many killed and injured in coordinated Parist attacks, hostages taken
Dozens of people have lost their lives in a series of apparently coordinated attacks in the French capital on Friday evening. Addressing the nation, President Francois Hollande called on everyone to remain strong and show "compassion and unity."
"There is much to fear, but we must face these fears as a nation that knows how to muster its forces and will confront the terrorists," the president said.
In the wake of the "unprecedented terrorist attacks," Hollande has ordered the French military to deploy reinforcements in the capital.
BREAKING: French president says military being deployed around Paris after unprecedented attacks.

— The Associated Press (@AP) November 13, 2015
Five of Paris' metro lines have been shut down in the wake of attacks, as well as the Orly Airport where all flights have been suspended. All schools and universities in Paris will also be closed.
The tragedy has forced Hollande to cancel his participation at the G20 summit in Turkey this weekend.
Russia has condemned the "series of monstrous terrorist attacks in Paris," with President Putin offering deepest condolences to the French people, as well as his counterpart. Kremlin spokesman Dmitry Peskov added that Russia will offer any help it can to bring those responsible for attacks to justice.
READ MORE: Terrorists keep dozens hostage inside Paris concert hall, refuse talks
US president Barack Obama also offered "full support" to France to overcome what he said appeared to be a terrorist attack, and noted that the US and France shared the bonds of "liberte, egalite and fraternite."
"We stand prepared and ready to provide whatever kind of assistance the government and the people of France require," Obama said.
British Prime Minister David Cameron also said he was "shocked" by the violence in the French capital. "Our thoughts and prayers are with the French people," Cameron said on Twitter. "We will do whatever we can to help."
You can share this story on social media: