Bataclan concert hall siege leaves 100 hostages dead, 4 terrorists 'neutralized' – reports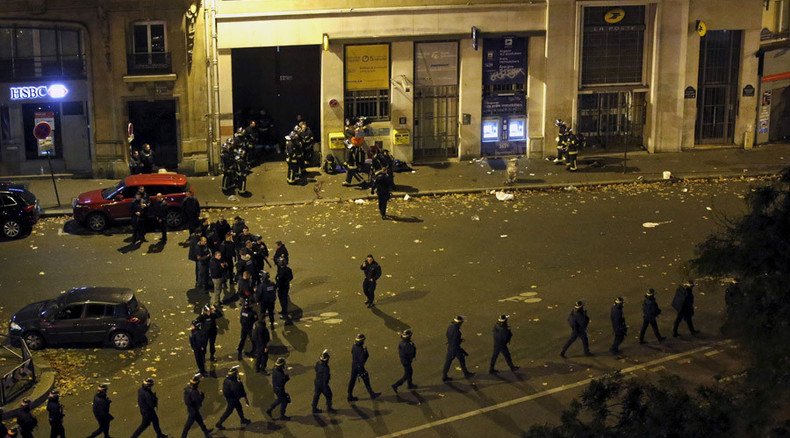 Once the Paris police decided to storm the Bataclan theater, where four terrorists were holding dozens of people hostage, the assailants decided to detonate the suicide belts they were wearing, according to local media reports, who added that over 110 people died as a result of the siege.
Three of the attackers were killed after letting off their explosive devices, while the fourth died after being shot by police. The exact number of hostages killed is still unknown. The Le Parisien newspaper claims over 100 people died, with at least a dozen suffering injuries.
The exact number of those held hostage is also unknown. Dozens of people who were evacuated from the theater have been rushed to hospitals. Both witnesses and police sources described the scene as "real carnage," with dead bodies all over place.
LIVE UPDATES: Many killed and injured in coordinated Parist attacks, hostages taken
One of the gunmen at Bataclan reportedly shouted: "It's for Syria" and "Allahu Akbar!" meaning, "God is [the] greatest" in Arabic.
It still remains unclear how the situation developed inside the concert hall. According to witnesses, the attackers stormed the venue as a California rock group 'Eagles of Death Metal' was performing on the stage.
A Europe 1 journalist, who was inside the Bataclan, said the men were unmasked and carried what he recognized as Kalashnikov-type guns.
"The assailants had time to reload at least three times. They were not masked, masters of themselves. They were very young," the reporter Julian Pearce said, according to the Liberation newspaper.
People who managed to flee the theater reported seeing between six and eight shooters inside were killing those who remained in the concert hall "one by one".
A woman called Anna, who witnessed shooting at the theatre, told BFM TV, "initially, it was believed to [be] firecrackers" after hearing the loud bangs.
French President Francois Hollande arrived at the scene shortly after police stormed the venue.
"The terrorists who were not far from here were killed," Hollande said after visiting a security command center near the Bataclan concert hall.
Paris Mayor Anne Hidalgo was on the scene during the hostage siege at Bataclan.
The massacre in the theatre has become the bloodiest of the six simultaneous attacks that struck Paris Friday night. According to figures given by Paris authorities and local media, over 150 people were killed in a series of explosions and shootings in the city.
This figure is expected to change as more information is coming in.
You can share this story on social media: