80,000 Russian tourists still in Egypt to travel home separately from their luggage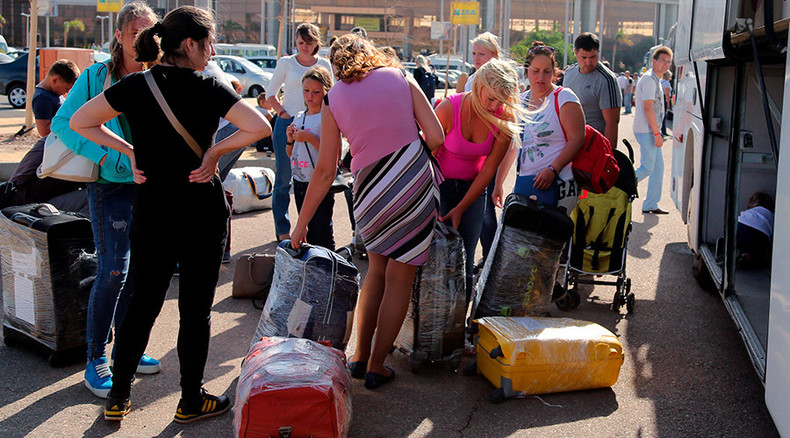 Russian tourists leaving Egypt will only be able to take cabin baggage with them, and their other luggage will be delivered later on cargo planes, Russia's tourism chief said. There are an estimated 80,000 Russians staying in Hurgada and Sharm el-Sheikh.
Authorities stressed they are not planning any emergency evacuation, the head of Russia's federal tourism agency Oleg Safonov told journalists Saturday. "A process of planned transfer of tourists from Hurghada, Cairo and Sharm el-Sheikh will take place," he said.

Safonov said that new tourists from Russia will not be able to visit the country. Russia will send empty planes to bring home travelers scheduled to come back at the end of their vacations.


Meanwhile, safety measures at Russian airports have long been stepped up, deputy PM Arkady Dvorkovich said Saturday, adding that the authorities consider them satisfactory.

Russia's Emergencies Ministry will be sending planes to Hurghada and Sharm el-Sheikh to pick up tourists' luggage, leaving Egypt with cabin luggage only, the ministry's press service told TASS on Saturday.

"One plane will leave from Cairo for Sharm el-Sheikh, the second will depart from Moscow to Hurghada to deliver the luggage of those who left Egypt without it," the ministry's representative said, adding that the work will be organised jointly with local authorities.
On Friday, due to security concerns, President Vladimir Putin agreed with the Federal Security Service to halt all Russian flights to Egypt following the October 31 passenger plane crash in Sinai that killed all 224 people on board. He said flights to Egypt would be suspended until the causes of the incident are established. Putin had instructed the government to ensure the safe return of Russian citizens from Egypt and to cooperate with the Egyptian authorities on establishing air traffic security. The flights will be suspended until a "proper level of air communication security" is established, Kremlin spokesman Dmitry Peskov said.

The spokesperson for the Russian Union of Travel Industry, Irina Turina, told RIA Novosti that 13 Russian airlines will be bringing tourists back to a total of 27 Russian cities.

"These 13 airlines will deliver tourists to different cities, but approximately 60-70 percent of these passengers will be heading to Moscow. This does not mean that all of them are Muscovites, but the Russian capital is marked as their final destination," she said on Saturday.

Tourism represents about 11 percent of Egypt's economy, and the country is one of the most popular destinations for Russian travelers, even more so in winter. About 240,000 Russians had already bought Egyptian tour packages for New Year's holidays, Vladimir Kantarovich, vice president of the Russian Tour Operators Association, told AP. He said the packages averaged $1,100 per person.

Travel companies said they could return money or swap holiday packages from Egypt to Turkey and take Russian tourists to Antalya. "Antalya is a highly secure resort," the head of the local Department of Culture and Tourism, Ibrahim Acar, told TASS, adding that Russian citizens would enjoy their vacations in Turkey.
READ MORE: Britain accused of withholding Sinai crash intel from Russia & Egypt
On Wednesday, Britain halted flights to and from the resort of Sharm el-Sheikh over concerns that the Russian passenger jet was downed by a bomb on board. Earlier this week, US media cited sources in the intelligence community saying that that a US infrared satellite had allegedly detected a heat flash in the same vicinity, indicating that an explosion may have occurred on board.
The Airbus A321 belonging to Russian Kogalymavia, which uses the brand name Metrojet, crashed in Egypt 20 minutes after takeoff from Sharm el-Sheikh airport on October 31. All 217 passengers and seven crewmembers on board died in the disaster, making it the deadliest incident of this kind in Russian aviation history. There was no distress call prior to the crash.
READ MORE: Cherry-picking facts may lead Sinai crash probe down MH17 lane – Russian aviation agency chief

Following the disaster, the head of Russian aviation agency Rosaviatsia, Aleksandr Neradko, said that all the signs suggested that the destruction of the plane occurred "in the air and at a great altitude." The evidence for that was the remains of the plane and the bodies, which have been scattered over an area measuring about 8 kilometers by 4 kilometers, he said.
You can share this story on social media: