EU, Balkan leaders agree on joint plan to tackle wave of asylum seekers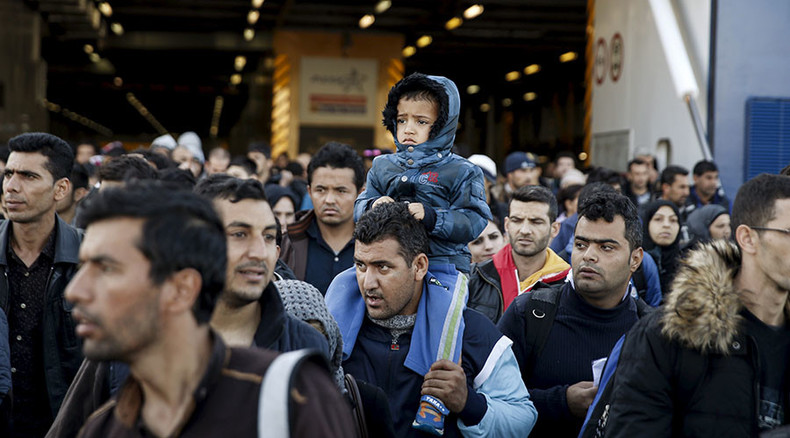 EU and Balkan leaders have agreed on a 17-point plan aimed at tackling the wave of refugees and migrants flooding the bloc's member states via the Balkan Peninsula, the EU Commission said after their meeting in Brussels.
Leaders representing Albania, Austria, Bulgaria, Croatia, the former Yugoslavian Republic of Macedonia, Germany, Greece, Hungary, Romania, Serbia and Slovenia met in Brussels to agree on a joint plan of action that was published by the EU Commission early on Monday.
Among the main points of the agreement is Greece's commitment to increase its reception capacity to 30,000 by the end of the year, and to support the UN refugee agency (UNHCR) in providing rent subsidies and programs for host families, which will aid in accommodating at least 20,000 more. According to the plan, the UN refugee agency UNHCR will help make it possible to accept 50,000 more asylum seekers along the Western Balkans route.
"We will increase reception capacities to 100,000 places in Greece and in the western Balkans," European Commission President Jean-Claude Juncker told a media conference late on Sunday.
The leaders also agreed to deploy 400 police officers in Slovenia within a week and refrain from facilitating the movement of migrants to the borders of other countries.
"Countries affected should not only talk about and at each other but also with each other. Neighbors should work together not against each other," Juncker said in a press release.
Over 60,000 migrants and refugees heading to Germany and Austria arrived in Slovenia over the past week, having changed route after Hungary sealed its borders.
"We have made very clear that the policy of simply waving people through must be stopped," Mr. Juncker told reporters.
The plan approved by the EU Commission also envisions border management measures, such as scaling up the Poseidon Sea Joint Operation in Greece and increasing the presence of the Frontex border agency in the Aegean Sea. The plan calls for significantly strengthening Frontex support between Bulgaria and Turkey, as well as setting up border control operations at Macedonia's and Albania's land borders with Greece.
The leaders agreed to set up contact points to facilitate an exchange of information on refugees and migrant movements as well as to aid in returning migrants not qualifying for asylum seeker status. The plan also calls for increasing police and judicial cooperation in the fight against migrant smuggling and engaging Europol and Interpol in operations along the Western Balkan route.
"Europe must show it is a continent of values, a continent of solidarity ... This is a building block but we need to take many further steps," said German Chancellor Angela Merkel.
READ MORE:Slovenia expands army powers to help police guard border amid refugee crisis
Slovenia's PM Miro Cerar warned the other EU leaders gathered in Brussels on Sunday that the Union will "start falling apart" if members do not develop a sound and effective strategy to deal with the mass influx of refugees and migrants via the Balkans.
"If we don't find a solution today, if we don't do everything we can today, then it is the end of the European Union as such," Cerar told reporters after the summit. "If we don't deliver concrete action, I believe Europe will start falling apart," he added.
His office also issued a statement on Sunday calling for "an immediate operational response from the EU" that should "ease the burden on the most exposed countries."
The politicians seemed to be playing a blame game at the summit, however, shifting the responsibility for the worst migrant and refugee crisis since the WWII onto each other.
Croatian Prime Minister Zoran Milanovic blamed Greece for failing to control its maritime border with Turkey, while Greek Prime Minister Alexis Tsipras pointed to a lack of solidarity within the EU.
"Till today, it was difficult to find a solution, because a series of countries adopt a stance 'Not in my backyard,''" Tsipras said, apparently referring to the EU countries that had refused to accept a mechanism for redistributing refugees and, instead, took unilateral steps to secure their own territories, such as Hungary's construction of a barbed-wire border fence.
In his turn, Hungarian Prime Minister Victor Orban said that he was just an "observer" at the summit, as his country was not "on the [refugee] route anymore" and blamed other EU countries, "especially those who are members of Schengen treaty," for not following EU regulations and Schengen rules to the full degree.
In the meantime, Serbia, Romania and Bulgaria warned on Saturday that they would not let the EU turn them into a "buffer zone" and would close their borders if EU countries stopped accepting refugees.
"All three countries are ready if Germany and Austria and other countries close their borders […], we will be ready to also close our borders at that very same moment," Bulgarian Prime Minister Boyko Borisov said following talks between the three Balkan leaders in Sofia, as quoted by Deutsche Welle.
Slovenia has also recently said that it would follow Hungary's lead and build its own wall along its border with Croatia if Brussels refuses to allocate €140 million ($155 million) to helping it cope with the inflow of refugees.
LISTEN MORE: