Slovenia expands army powers to help police guard border amid refugee crisis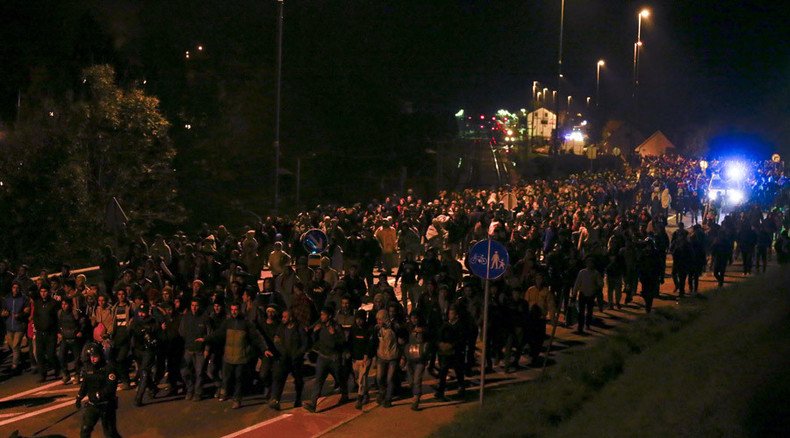 The mounting refugee crisis in the EU has led the Slovenian Parliament to pass a new law, giving the army more powers to police borders. Soldiers could now be given the green light to get involved "under very specific circumstances."
The new legislation was successfully passed on early Wednesday, allowing the troops to help secure the nation's borders amid an influx of thousands of refugees that have been trying to make their way into Slovenia from Croatia since Hungary's decision to close its borders, Reuters reports.
Soldiers now have the power to make decisions when police are not present on site, Reuters reported. The army has already offered to help under police supervision starting this week.
READ MORE: Fire breaks out at Slovenia refugee camp housing thousands (VIDEO)
The law was passed by the necessary two-thirds majority following a five-hour debate in the Parliament, with 66 votes cast in favor and five against, Slovenian newspaper Vecer reported. The army's new powers have been granted for a period of only three months, with a possibility to extend.
Slovenia, which has a population of just two million, has already received over 20,000 migrants since Saturday. The country's government is planning to ask the EU for help in dealing with financial and security concerns.
"(On Wednesday) we will officially ask the EU ... for police back-up and for financial help," Prime Minister Miro Cerar said prior to Wednesday's vote.
Early on Wednesday morning, more than 1,000 migrants were transported through Croatia to the Slovenian border by train and "released into the fields" to cross the border on foot, Associated Press reports. Having to navigate the unfamiliar terrain on foot, the asylum seekers, many of whom are women and children, had to cross the Sutla River to enter Slovenia, where they were immediately rounded up by police.
Exhausted by their long journey, the refugees - wet through and frozen - remained in the field as police waited for orders on where to take them next. It is expected that they will have to walk another 15 kilometers, escorted by police, to the nearest reception center, where they will be registered.
After Hungary fenced off and closed its borders, most of the migrants changed their route and are now pouring into Slovenia to find a way through the country – and to eventually reach Germany, France or the UK.
The first bus carrying refugees arrived at the Slovenian-Croatian border on Saturday morning. It was quickly accompanied by over 40 more.
Slovenia has already taken steps to restrict the flow of refugees by cutting off all rail traffic with Croatia. Only two border crossings are likely to remain open – at Gruskovje and Petisovci – for asylum seekers traveling by bus.
The majority of the migrants are refugees fleeing from North Africa and the Middle East due to violent conflicts and poverty.
Slovenia's opposition parties have asked the prime minister to consider building a fence on the Slovenian border with Croatia – as Hungary did – in order to stop the flow of migrants. This option of "safeguarding border crossings with physical obstacles" has not been excluded, Reuters cited an official from the interior ministry as saying.
LISTEN MORE:
You can share this story on social media: