Snowden leaks reveal harmfulness of US monopoly on internet – Russian minister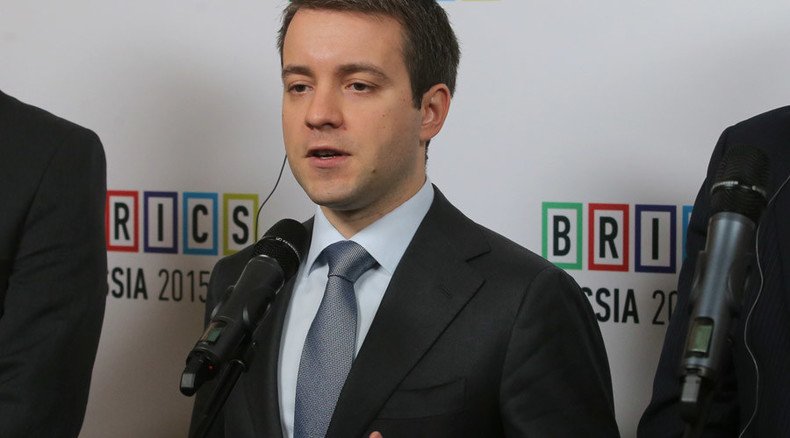 The NSA's mass surveillance would not be possible if the internet wasn't controlled by just a few major US companies, Nikolay Nikiforov, Russia's communications minister, told RT after the first BRICS ministerial meeting on the de-monopolization of IT.
"Snowden's disclosures showed exactly the harmfulness of the monopoly because it would not be possible if the world IT sector should be structured in a more balanced way," Nikiforov said, adding that, as things stand, US security agencies have the power to just "come to several companies and to force them… to actually provide absolutely illegal access to hundreds of millions records of private data of users globally."
In 2013, whistleblower Edward Snowden leaked thousands of documents revealing the US National Security Agency's mass surveillance programs, proving that Google, Facebook and other US tech giants have been passing information to the spy agency.
Russia's Communications and Mass Media minister stressed that, in purely economic terms, the monopoly is also harmful for BRICS nations (Brazil, Russia, India, China and South Africa) and the international community as a whole.
"The monopolist could dictate you the certain price level… each country in the world is actually sending out billions of dollars outside its national economies as the license fees… for key technologies," he explained.
Nikiforov said that BRICS nations are dissatisfied with the current state of affairs, where a particular state or company controls up to 90-95 percent of certain IT market niches, such as the assigning of domain names performed by the American ICANN company under contract with the US government.
During the maiden meeting in Moscow, the BRICS communications ministers agreed that their countries want fair competition and "want it to be balanced, not to depend on one country or several companies," he said.
De-monopolization topped the agenda, as "for every small company, every national leader it's still impossible to fight for the global market… We really require some kind of diversification of IT solutions," the minister added.
Nikiforov pointed out that ICANN had failed to follow through on its promise to transfer its duties by September 2015, meaning "still the critical infrastructure is just under the management of one country in the world and one particular legal entity in one country."
"The whole global society is widely discussing some kind of a transition time frame for it to be transferred to some kind of a multistate holder approach, where it'll be managed by all interested parties, including national governments, because they're finally responsible for security and for national law on their territories, as well as NGOs, academic organizations," he said.
However, the minister stressed that neither he nor his BRICS colleagues were talking about employing restrictive measures to push for de-monopolization.
"We don't want to prohibit anything. We don't want to use any sanction approach, which is becoming very popular in the Western world. We're just talking about supporting our national developers," he explained.
Nikiforov said that it won't be easy to achieve the BRICS "dream… that every market is not controlled by more than 50 percent by this or that country or company."
"But if we work hard, I believe that in three, maybe five, maybe seven years from now this market structure could be reshaped," he said.
With the BRICS nations accounting for half of the world's population, Nikiforiv stressed that the block's internal market will become the "major power" in achieving the de-monopolization of the IT sphere.
"BRICS is probably the largest politically consolidated market. If we do our best, take joint decisions… that could be a solution to doing that. We see that our IT companies are willing to do that. They do have this ambition, which is very good. And we have this human capital and technology potential to do that. But they could do nothing without government support because of unfair competition in this area. And we'll do our best in order to provide them with some kind of a foundation in order to succeed," he said.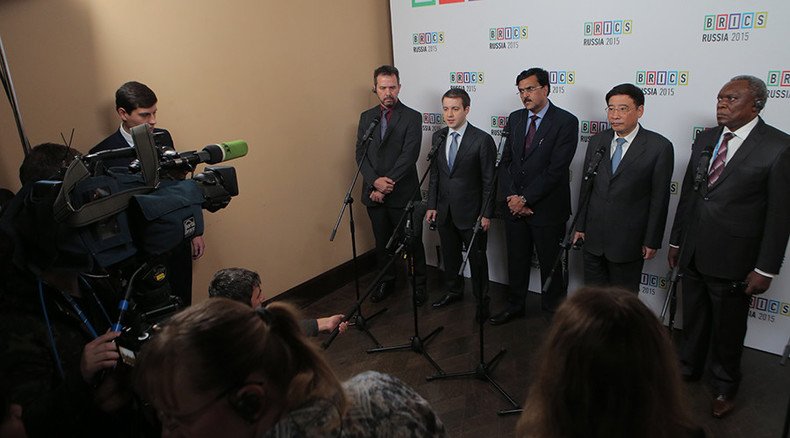 READ MORE: BRICS bank gets its ducks in a row
The minister also mentioned that the creation of a "direct undersea cable connection between BRICS countries" had been discussed at the Moscow meeting.
"We just need the stable and reliable basic internet infrastructure that's not dependent on this or that existing internet hub and somehow could be influenced by this or that geopolitical decision," he said.
Nikiforov also expressed hope that laying such a cable "could be one of the first infrastructure projects funded by the BRICS Bank," which is now being set up by the block's member states.
You can share this story on social media: