Drones in Turkey, missiles in Iran & ground op in Syria: More MSM bombs for Russia amid ISIS fight
Since Moscow joined the struggle against Islamic State in Syria, its military efforts in the region have become a target in themselves with western mainstream media attacking Moscow, publishing unconfirmed reports and scaremongering at every opportunity.
READ MORE: RT fact checks 4 media fails on Russia's anti-ISIS op in Syria
A drone over Turkey near the Syrian border is one of the recent "Russian" targets. After the Turkish military released a statement saying that it had downed an unidentified drone in Turkish airspace, after issuing warnings that action would be taken against the aircraft, it didn't take long for reports to emerge pronouncing it Moscow's spy.
A Russian drone manufacturer has denied the reports, calling photos of the allegedly downed drone part of a poorly-staged "informational provocation." A Turkish military explanation of how the drone's alleged flight path had been disrupted was also thrown into question: Would an UAV have remained so lightly damaged if it were downed by a plane? And – even more curiously – "who ... the pilots of the Turkish fighter jets warned three times before downing this drone?" asked the Russian drone manufacturer.
The drone's fate was barely sealed when British newspapers speculated that Royal Air Force Tornado jets bombing terrorist targets in Iraq were to be equipped with air-to-air missiles and that the pilots had been cleared to fire on "Vladimir Putin's jets" in case of imminent threat.
READ MORE: Information warfare? Russia accused of killing civilians in Syria
Moscow issued a formal request to the British Foreign Office, demanding explanations. The answer came in a news blog, with UK's MoD's spokesperson having written that "There is no truth in this story."

But sometimes it's not even necessary to quote unnamed "senior defense sources" in a report, when one can easily completely misinterpret an official Russian statement by simply adding a preposition.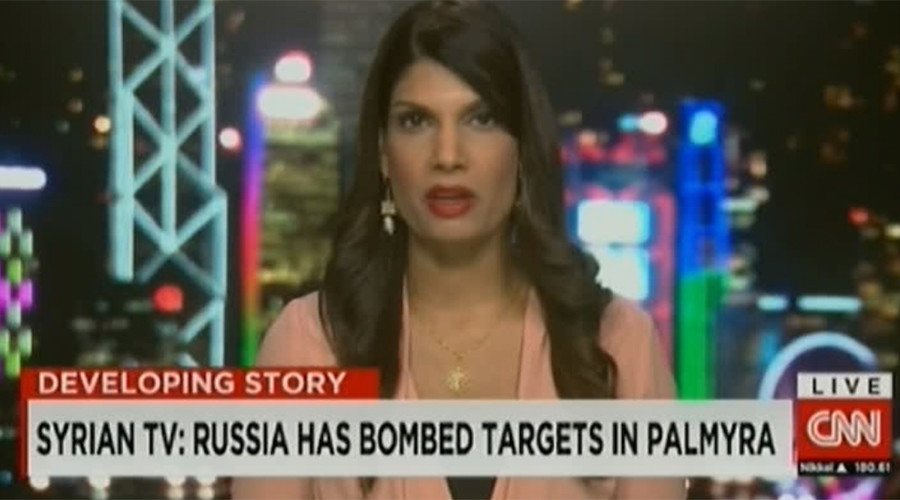 While the Russian Defense Ministry said that Russia's Sukhoi jets destroyed a number of jihadists' tanks and rocket launchers in Homs province near embattled Palmyra – with US Central Command having reported on the same day that the US-led coalition had also conducted airstrikes near Palmyra, a tiny "in" was added by some large news outlets when reporting on the Russian successes.
Citing a report on Syrian television, CNN said "Moscow has confirmed it has bombed ISIS targets in the ancient Syrian city of Palmyra."
READ MORE: 'Ditch double standards!' Russia seeks united anti-ISIS front after Palmyra massacre
"All the world media showed the aftermath of destruction of unique ancient monuments in Palmyra by ISIS terrorists. After that to blame the Russian Air Force for bombing Palmyra is to say the least unprofessional and beyond journalistic ethics," Russian Defense Ministry commented.
Sometimes it's about confusing prepositions, but at times whole countries are being messed up. A CNN story suggested that several Russian cruise missiles targeting Islamic State positions in Syria crashlanded in Iran. Citing two unnamed "top US officials," the American broadcaster reported that four Russian missiles had crashed somewhere in Iran after being launched from vessels in the Caspian Sea.
READ MORE: Bellingcat accuses Russia of faking videos showing jets dropping bombs on ISIS
The Russian Defense Ministry has refuted the reports – but of course they hadn't even been asked by the western MSM. "Unlike CNN, we don't distribute information citing anonymous sources, but show the very missile launches and the way they hit their targets almost in real time," Russian Defense Ministry spokesman Igor Konashenkov said.
READ MORE: Reports of Russian missiles falling in Iran lies, part of psychological war - Iranian general
"I want to address such media outlets as CNN... if you make statements quoting some unnamed sources, please post our response to the allegations as well," Russia's Foreign Ministry spokesperson Maria Zakharova said, while commenting on yet another media report on Russia's actions in Syria.
The obvious request to double check the stories was pointed out by Moscow after CNN and the New York Times quoted their own sources in the US government suggesting that Russia is preparing for a ground offensive in Syria.
"American military officials said they believed that more than 600 Russian military personnel were already on the ground in Syria, not counting aircrews," the New York Times wrote, while CNN added that "observations have been made by US intelligence that Russian artillery and rocket systems, heavy weapons essentially, are on the move in western Syria."
READ MORE: Putin: Russia has no intention of mounting Syria ground operation, wants to see political compromise
And while Russian President Vladimir Putin has repeatedly emphasized that using ground troops in Syria is out of the question, for some reason no one has questioned senior US Senator John McCain, who has called for "some more boots on the ground" in Syria and Iraq.
LISTEN MORE:
You can share this story on social media: