Real life Winnie-the-Pooh: Bear gets stuck in house after eating too much (VIDEO)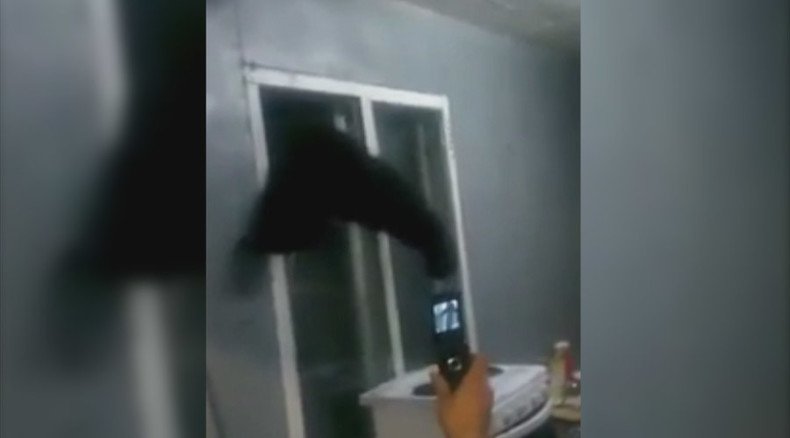 It seems as though Winnie-the-Pooh wasn't just a fairy-tale, as a bear in Russia's Far East has been repeating some of the antics portrayed by the cartoon favorite. The bear cub got stuck in a window after having had a little too much to eat.
While animals getting their heads stuck in jars is nothing new, bears getting obstructed trying to exit through a window and flee the scene of a crime certainly is.
'Winnie the Pooh' situation in Russia

It all comes from eating too much! A brown bear cub broke into a house in Kamchatka, Russia. The hungry animal ate everything it could find in the kitchen before the homeowners returned. The unexpected guest took several attempts to escape through the open window.Courtesy: Ruptly video agency.

Posted by RT Play on Saturday, October 17, 2015
A brown bear broke into a house in Kamchatka this week and while the owners were out, the animal apparently helped itself to more than just a little lunch.
He ate, and ate… and ate… and ate… in the kitchen...
READ MORE: Alaska bear encounter: "Thanks for not eating my kayak... hey, stop, it's not even food!"
When the homeowners returned, the bear probably thought, "I must be going now," and - standing on a stove by a window, tried to exit through a small window. But just like in Rabbit's house, the bear's bottom had become a little too fat to fit through, and... it became stuck, with its head on the outside, and paws dangling inside.
Unlike the helpful Rabbit, the homeowners didn't oblige to give their guest that extra little bit of help it needed. Giving the bear a push was the last thing on their minds as they stood laughing and filmed the poor cub on their mobile phones.

READ MORE: Siberian Groundhog Day: Ground squirrel stuck in own burrow on Baikal island (VIDEO)

"It all comes of not having front doors big enough," the bear was probably thinking, though it did eventually manage to push itself through the window and away to safety.
You can share this story on social media: