First-ever French person legally recognized as 'gender neutral'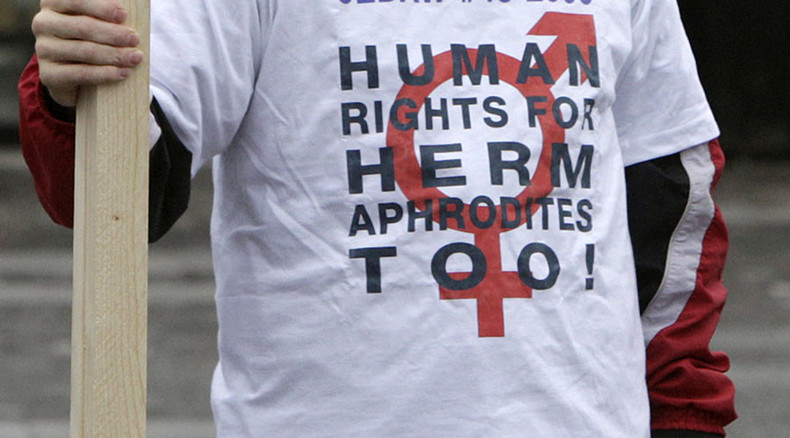 A high court in France has in an unprecedented move ordered that a 64-year-old intersex person's status be changed from male to neutral.
For the past 64 years the now first ever officially "gender neutral" person in France, was registered as a male and has had a masculine name, although biologically the person is as much male as female, born with a rudimentary vagina and a micropenis with no testicles.
"As a teenager I realized that I was not a boy. I had no beard, my muscles didn't become more prominent," the person told the French daily, 20minutes, "at the same time it was impossible for me to believe that I would become a woman. It was enough to look at myself in the mirror to know it."
The High Court in the town of Tours has allowed the citizen to leave the binary male/female sex system and although France doesn't recognize a third gender, like Germany for example, the use of neutral gender instead of male in this case has been approved.


READ MORE India recognizes transgender citizens as 'third gender'
Intersex people are born with no distinct male or female identity. Some infants undergo surgery to create what is seen as more socially acceptable characteristics. This is a widely debated subject with scientists arguing that although rare (represented by 1.7 percent of the population), diverse intersex bodies are normal and should be recognized as such, not altered.
"Most intersex born babies are still operated on from birth," says Mila Petkova, the lawyer who brought the case to court in Tours.
"However, these actions have no therapeutic value. It is not being done in the child's best interests, but in the interest of the parents and the society that has provided two boxes to check, a male and a female," Petkova explains.
The person who won the right to be called gender neutral and wishes to remain anonymous confessed to a French newspaper: "Today I finally feel that I am recognized for who I am."
READ MORE 'X' gender: Germans no longer have to classify their kids as male or female
Neutral gender is recognized in India, Thailand, Australia, Japan, New Zealand, Pakistan and Germany.