'X' gender: Germans no longer have to classify their kids as male or female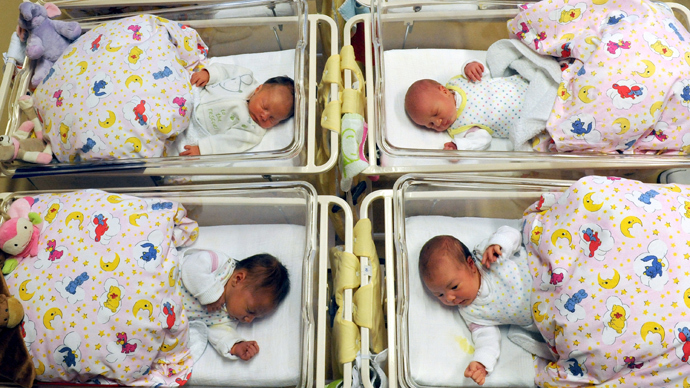 Germany has become the first European country to allow parents of babies born with no clearly-defined gender characteristics to leave the 'male/female' field on birth certificates blank, creating a 'third sex' category in the public register.
The law, passed in August, comes into force on November 1. It was prompted by results of a 2012 study by the German Ethics Council, which found the rights of intersex people weren't protected well enough.

The legislation is meant to prevent parents from making hasty decisions on controversial genital surgeries for their not-entirely-male-or-female newborns, done to make one of the two gender characteristics prevail.

"This will be the first time that the law acknowledges that there are human beings who are neither male nor female, or are both -- people who do not fit into the traditional legal categories," University of Bremen law professor Konstanze Plett said as cited by AFP.

As adults, German intersex individuals will soon be also spared from the necessity to fit in the conventional gender framework, as the current two options of entering either 'M' for male or 'F' for female in a passport gender field, will be officially supplemented by a third option: 'X'.  

This kind of three-gender-choice system was introduced in Australia in 2011. New Zealand followed suit a year later. Intersex advocates, however, say that legalizing the status of intersex people is not exactly where the fight for their rights ends.  

"As an adult with an X passport I can tell you that actually using that passport is fraught with difficulty. I can't fly to the US with that passport, indeed I can't even book a meeting about that with their consulate," says Morgan Carpenter, president of Intersex International – Australia, in an official late October statement at the group's webpage.

Still harder than coping with legal confusion is coping with centuries-old stereotypes, the activist believes.

"Intersex people are regarded by medicine as having 'Disorders of Sex Development'," Carpenter says. "The term ensures that sterilizations and unnecessary genital surgeries continue today. This remains our most fundamental concern. Genital surgeries continue in Australia to make infants and children 'appear' male or female."

Germany is expected to face some of these issues as well, as the country's marriage and partnership laws, for example, are based on the binary gender system. Besides there are so many everyday life situations, in which a neither-male-nor-female child might feel ill-at-ease.   

"Schools have toilets for boys and toilets for girls. Where will the intermediate child go? There are separate sports activities for boys and for girls, and so many other things like this. The law doesn't change that. It does not immediately create a space for intersex people to be themselves," AFP cites Silvan Agius, policy director at ILGA Europe, a lesbian, gay, bisexual, trans and intersex rights group.

It's estimated that on average one in 2,000 births is of an intersex baby. Advocates argue the actual figure is much larger as intersexuality might sometimes not be immediately defined.

According to German government figures of 2007, cited by Reuters, at least 150 intersex babies are born in Germany each year and 8,000-10,000 people have 'serious variations' from physical gender-defining characteristics.

You can share this story on social media: