Israel strikes Hamas sites in Gaza: Pregnant Palestinian woman, child killed as house collapses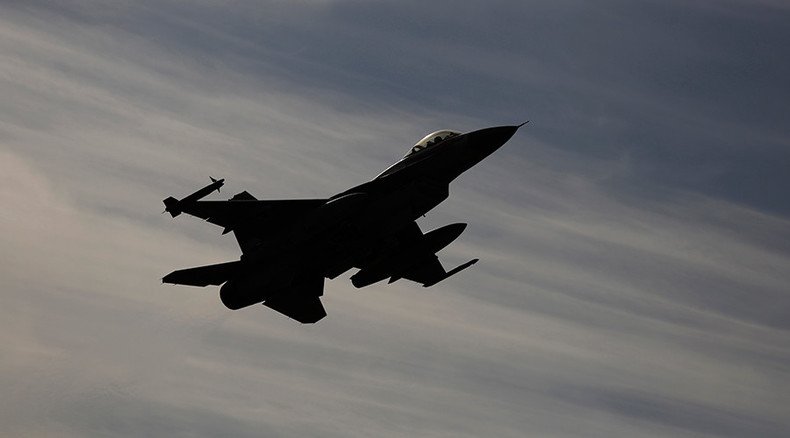 A civilian woman and her 3-year-old daughter were killed as her family's house collapsed during an Israeli Air Force strike on the Gaza Strip. The bombing, which reportedly targeting Hamas sites, came after a rocket had been intercepted by Israel's air defense system.
FOLLOW RT's LIVE UPDATES on escalating Israeli-Palestinian violence
A series of deafening blasts in the Gaza Strip were reported after 2am local time by multiple sources on social media, with pictures of smoke billowing into the air posted on Twitter.

Hamas-run Al-Aqsa Satellite Channel reported that the Badr area, site of the militant Palestinian al-Qassam Brigades, was among the targets struck. Some Israeli media reported strikes on "terror targets" in Gaza.
Israel just struck Gaza with missiles that caused huge explosions and shook the building and woke the kids. israel lives off terror

— Gaza Writes Back (@ThisIsGaZa) October 10, 2015
At least one civilian woman was killed and two of her family injured in the bombing, which damaged their house, Reuters correspondent Nidal al-Mughrabi reported, citing medical sources.

The bombing caused the house to collapse on the family. The survivors have now been evacuated to Shifa hospital, Palestinian journalist Mohammed Omer tweeted.
According to Omer, the victim's name was Noor Hassan, 30. She was in her fifth month of pregnancy.
One woman was killed and two other members of her family wounded after Israeli bombing of a Hamas position nearby damaged their home in Gaza

— Nidal al-Mughrabi (@nidalal) October 11, 2015
The name of the lady who was killed is Noor Hassan, 30 year old, pregnant in 5th month and 3 of her family members injured in last airstrike

— Mohammed Omer  (@Mogaza) October 11, 2015
The three-year-old daughter of the woman also died in the ruined building, Gaza Health Ministry spokesman Ashraf al-Qidra told Reuters. He added that a five-year-old boy and a man had been wounded.
The air raid followed an interception of a missile over the southern Israeli area of Ashkelon. According to Jerusalem Post, there were no injuries or damage caused by the rocket, which was shot down by the Iron Dome defense system. The rocket launch had triggered alarm sirens in the area.
Rocket fired from Gaza intercepted by Iron Dome in Hof Ashkelon Regional Council. No injuries or damage reported.

— IDF (@IDFSpokesperson) October 10, 2015
READ MORE: 5 Palestinians killed by Israeli forces amid concerns of escalating standoff
Israeli-Palestinian tensions have been escalating recently. On Saturday, events heated up after five Palestinians were shot dead by Israeli security forces at two separate locations — in Jerusalem and along the Gaza border fence with Israel. At the same time, four Israelis were injured in stabbing attacks.
In Jerusalem, three Palestinians were killed by Israeli police as they were attacking Israelis with knives, according to Israeli police spokesman Micky Rosenfeld. Along the border fence, two Palestinians, aged 12 and 15, were killed by Israeli security forces during a Gaza protest.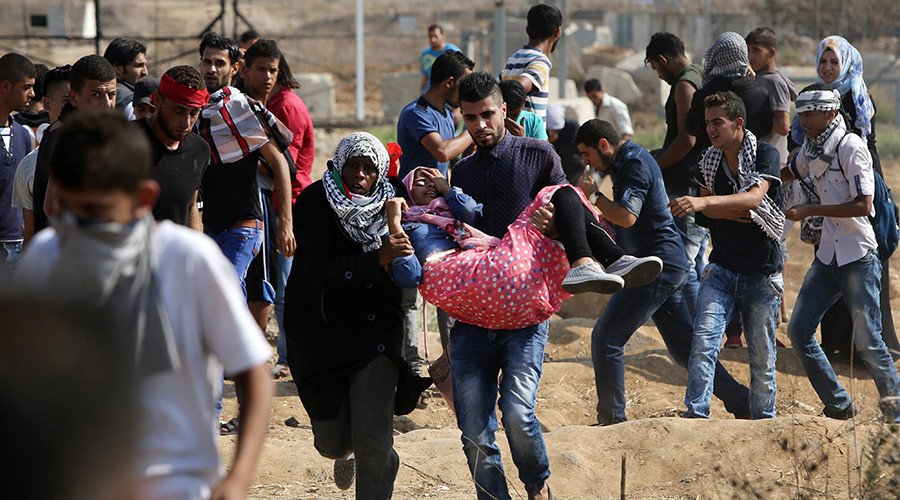 Israel Defense Forces (IDF) have closed off the Erez border crossing connecting Gaza with Israel in response to the escalating violence, according to Israeli media.
The surge in violence has been fueled by the situation surrounding the Al-Aqsa mosque in Jerusalem, which is located at the Temple Mount site and is considered a major holy place by both Islam and Judaism.
Palestinians say they fear they will be deprived of their rights at Al-Aqsa. Muslim clerics have expressed concern that Israeli authorities plan to raze the mosque to construct a Jewish temple – a claim that Israel has been denying.
In the latest development this week, Israel has reintroduced a ban barring Palestinian worshipers under 50 from entering the Al-Aqsa mosque in Jerusalem for Friday prayers. The move was announced by Israeli police as part of broader measures focused on tightening security in the Old City.
Violence also broke out near the West Bank cities of Hebron and Ramallah. Scores of Palestinians have been injured in the clashes, over a dozen by gunfire, Reuters reported, citing the Palestinian Red Crescent.
LISTEN MORE:
The new wave of violence has been ongoing for over a week, with reports of victims coming from the region daily. Four Israelis and 21 Palestinians have been killed in Jerusalem, the Israeli-occupied West Bank, Gaza, and in other Israeli cities during the 11 days of bloodshed, Reuters said.
READ MORE: Palestinian woman shot after stabbing Israeli in Jerusalem - reports
The latest protest held on Saturday involved thousands of students from Palestinian universities gathering in a square near their educational facilities in Gaza and marching to the legislative council, condemning the Israeli violence against Palestinians of recent days, Ruptly reported.
You can share this story on social media: